2023: CISCAES Calls For Transparency In South East Polls, Decries Alarming High Insecurity
Ebonyi, Latest News, News From The State
Monday, February 20th, 2023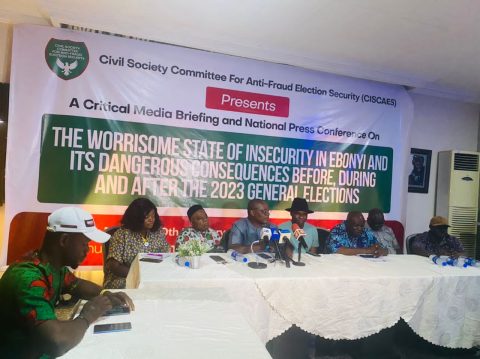 (AFRICAN EXAMINER) – A civil society group, under the platform of  Civil Society Committee for Anti-fraud Election Security, CISCAES, has called on the people of the  SouthEast  region to come out  en masse  during the forthcoming general elections to vote for candidates of their choice.
The organization  also expressed concern  at the high level of insecurity in Ebonyi State occasioned by the state Governor, Engr. David Umahi who they accuse of using the outlawed Ebubeagu security outfit to intimidate and harass the citizenry and political opponents.
Addressing  newsmens in Enugu on Monday at a press conference christened:, "a critical media briefing and national press conference on the Worrisome State of Insecurity in Ebonyi State and its Dangerous Consequences Before, During and  After the 2023 General Elections," the National Coordinator of CISCAES, Comrade Kennedy Iyere, described Gov. Umahi as a dictator and emperor who would brook no opposition.
He alleged that Umahi is bent on imposing a candidate of his choice on Ebonyians using the outlawed Ebubeagu security outfit in the forthcoming elections.
According to him,  despite the fact that a high court disbanded the Ebubeagu, Umahi quickly recruited the same group made up of people from various states including the Northerners to terrorize and harass the opposition.
The human rights groups, who also accused the Governor of building a terror group in Ebonyi State, said that Ebonyi State is now  highly volatile.
Describing Ebonyi State  as the worst insecure state in the entire South East region, Iyere said that even the church is highly politicized and the leaders are even afraid to make statement for the fear of the governor's action.
The governor, Iyere alleged "has made himself an emperor and a supreme leader.  He wants to impose a candidate on the people by all means."
He said that before now, Umahi used to be his friend but now has changed and has made Ebonyi a terror zone and described how he narrowly escaped death from a hotel in Ebonyi State from the hands of the Umahi killer squad called Ebubeagu.
The Social Crusader  added that the terror group that came to his hotel room warned him to disappear from the state and never to come back again, pointing out that they spared his life because of his  personality.
He  said that he had gone round all the five states in the SouthEast Region but never in any of them did he witness such insecurity as obtained in Ebonyi, where no hotel would allow a press conference of that nature to take place for fear that the establishment would be closed down.
The Human Rights Activist,  however,  called on the Federal Government to focus their searchlight on the activities of the Ebubeagu in Ebonyi State with a view to ensuring a peaceful, hitchfree polls.
The media briefing was attended by various Civil Society groups and  members of Transition Monitoring Group. TMG.
Short URL: https://www.africanexaminer.com/?p=85455