21 Bodies Discovered After Kenyan Pastor Told Members To 'starve To Meet Jesus'
Featured, Latest News, News Around Africa, South Africa, Southern Africa
Sunday, April 23rd, 2023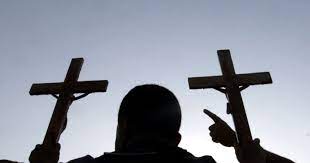 (AFRICAN EXAMINER) – Kenya police have dug out twenty-one bodies in Malindi, a coastal town in the southeastern part of the country.
According to the BBC, 15 members of the Good News International Church were rescued from their shallow graves in the Shakahola forest.
 The African Examiner writes that Kenya Broadcasting Station (KBC) had reported that 58 graves have so far been identified saying that dead children are part of those that have been exhumed.
 However, Paul Mackenzie Nthenge, the founder of the church, better known as the "cult leader", though in police custody, has denied any wrongdoing. 
Nthenge was nabbed on April 15 after four bodies suspected of having starved themselves to death were found by the police.
 The preacher was said to have directed his congregation to starve themselves in order to "meet Jesus".
"In one grave, investigators found the bodies of three children with their father on one side and their mother on the other side. Another grave contained the bodies of a woman and a girl, both facing each other. All appeared to have died in recent weeks," a police source told AFP news agency. 
"Police have identified at least 58 suspected graves on the grounds of the Good News International Church, raising fears that the death toll will rise significantly. One Kenyan media outlet reported that more than 100 people may have been buried in the graves.
"We have not even scratched the surface which gives a clear indication that we are likely to get more bodies by the end of this exercise."
Short URL: https://www.africanexaminer.com/?p=87336