40 Bodies Of Passengers Aboard Missing AirAsia Flight Found Atop Water
Featured, Latest News
Tuesday, December 30th, 2014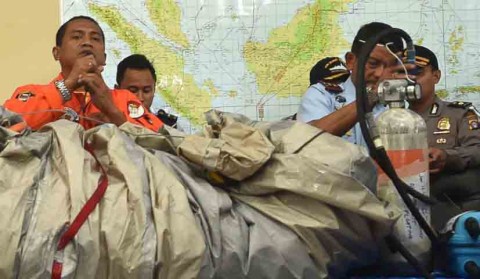 The Indonesian Navy from the sea has found no fewer than 40 bodies out of 162 aboard the missing AirAsia Flight QZ8501, as the search for others continues.
The discovery justified Monday prediction of the country's head of search and rescue agency, Bambang Soelistyo that the airbus was likely to be at the bottom of the sea.
There is no official confirmation yet, about the discovered bodies, just as the search operation has entered its third day, with the comb area extended to cover 13 zones over land and sea.
At a press conference Tuesday addressed by the head of the operation, videos of the debris and a floating body on the water were shown.
Soelistyo affirmed that 95 per cent of the objects shown were from the plane, also indicating that a shadow was spotted under water, which appeared to be in the shape of a plane.
While the relatives of the plane passengers enmeshed in grief, the Indonesian Navy informed that the 40 bodies had been retrieved by one warship.
The Navy Spokesperson confirmed the search operations were still in progress as the officers were very engaged.
The Chief Executives of the AirAsia,Tony Fernandes, in a tweet to the families of the passengers on board, said: "My heart is filled with sadness for all the families involved in QZ 8501.
The Singapore bound AirAsia A320-200 Airbus, disappeared early Sunday due to bad weather. Indonesia alone had 157 of her Nationals, while South Korea had three; Singapore and Malaysia had one each of their citizens on board.
Short URL: https://www.africanexaminer.com/?p=21164