Al-Sisi Vows To Lead Egypt To Stability At Inauguration Ceremony
Trending Stories
Monday, June 9th, 2014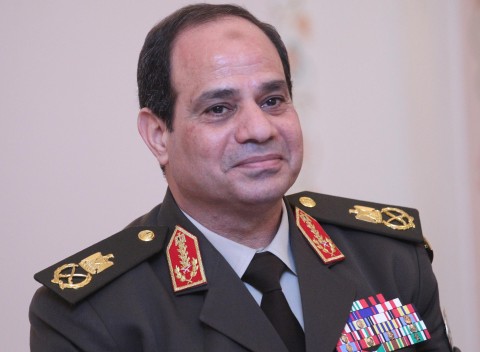 The newly elected President of Egypt, Abdulfattah Al-Sisi has promised to lead Egypt to stability and prosperity after three years of unrest and economic deterioration.
Al-Sisi vowed in his speech at an inauguration ceremony held in the presidential palace in Cairo and attended by Arab and foreign dignitaries after swearing-in on Sunday.
"The coming stage will be a time for building and a comprehensive development at the internal and external levels,"
"We will put foundations for Egypt of the future; a strong, fair, peaceful, safe and prosperous state that believes in the importance of science and work," he said.
He went on to say that "Building of the state will coincide with reviving the leading regional and effective international role." Al-Sissi urged
Egyptians to work hard and cooperate with him to develop their country.
"Let us build a more stable future for Egypt that signals the start of a new era that takes hard-work as a lifestyle." "Let us differ for the sake of our nation and not over it" he said.
Al-Sisi cheered the power-transfer ceremony as an exceptional moment in Egypt's history.
"This is an exceptional and decisive moment in a country whose thousands of years-long history did not witness a similar democratic transfer of power," Al-Sisi said.
"It is the first time when an outgoing president shakes hands with a president-designate and signs a document of power transfer." The newly-elected President has started his speech by thanking Arab and international dignitaries who attended the inauguration ceremony.
He also thanked Saudi Arabia's King Abdullah who pledged to hold a donor conference for Egypt to support its ailing economy.
Earlier, the outgoing-interim president Adly Mansour and Al-Sisi signed a document on the transfer of power.
Mansour congratulated the new president, expressing confidence in his ability to achieve people aspirations.
"Egyptians chose you in a free and fair election with gratitude for your national role and confidence in your ability to provide them with security and a better life" Mansour said in a speech addressing Al-Sisi.
Al-Sisi, former defense minister, was sworn in as Egypt's president earlier Sunday almost a year after the ouster of the country's first freely elected leader Mohamed Morsi.
Al-Sisi was elected last month amid a deeply polarized atmosphere that developed over the last year.
Short URL: https://www.africanexaminer.com/?p=12264