Sierra Leone: Ebola Riddle Harmattan Season At Christmas
Articles/Opinion, Ebola News, Latest News
Thursday, December 18th, 2014
Roland Bankole, Florida – Harmattan season is ripe in Sierra Leone at Christmas. But there will be no Christmas in my motherland. Don't tell our nervous folks back home or abroad that it's not a blizzard winter condition. Christmas church service may not take place here in US, as climatic conditions could be brutal or deadly.
My people are feeling the horror and enduring pressure. Though many of them have never experienced winter in reality. The roads and homes could be icy and treacherous, so are the neighbors suspicion of one another. For any one is a suspect and could be a potential carrier of the vicious Ebola virus.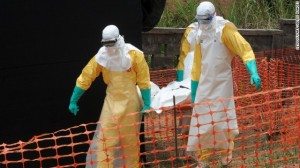 Uninformed folks are blindly hiding the Ebola fever that could result in a chain of infections. The stigma and societal perception stalls their honesty in coming out clean. Christmas is only eight days away, but there will be no Xmas for them as government has decided to cancel all celebrations in a desperate fit of exhaustion to contain the virus running amok, infecting and destroying many lives.
I'm shaking like a leaf in fall, as am scared and terrified to the core of my being. How did we get here? Did we lose sight of our once laser focus and vision? Sadly, some selfish, greedy folks are stepping on the gas to ensure that this enigma continues unabated.
Oh the heart and conscience of humans! Only God knows. I'm not poised to point fingers, as four fingers will be pointing at me. I've not been vocal and persistent enough to sound the alarm bell that danger and massive death is imminent during these perilous times. My conscience grieves, my heartache shattered as glass during a tornado storm. Let's share the blame for the magnitude of the Ebola calamity that has claimed the lives of many nurses and ten doctors. A prominent doctor is now fighting for his life, to pull through this nightmare. He tried to save others. Can he save himself from the yoke of Ebola?
Our people have sacrificed enough: Precious lives, treasures and seemingly a sagging nation at the ebb of slippery fall. Runaway unemployment was a riot before the advent of Ebola. Who cares for the hungry and huge size of unemployed folks, mostly the youth? But food provided for the quarantined are diverted and either sold or squandered. When did we get so heartless and indifferent to the needs of the poor and vulnerable? This is not the Sierra Leone I was born into that I unwillingly left two decades ago. Caught between the crossfire of anarchy and losing my dignity and yeast for life.
Then it was 'vouchergate' now it is 'Ebola die-man-gate'. Yes, 6000 fictitious health workers were fraudulently added to the payroll. We probably need a new vaccine to cure the stubborn virus of corruption, greed or heartlessness, so prevalent in our nation. Every politician should be mandated to take it or booted out of office. Our people are tired, exhausted of celebrated thieves posing as politicians. Some have gone international to expand the size and magnitude of their loot.
We have been calling on God since the days of late Wallace Johnson, Albert Margai and Juxon Smith for redemption from our own people. But not much has changed. Who will redeem this nation from the despotic running the nation as their inherited property? Power is endowed to the people not to the politicians. Sierra Leoneans unite to champion the destiny of our beautiful nation. And get on board to navigate it in the right direction, or allow it to sink underwater, if we don't take pragmatic action now!! For this storm like many others will pass away, if we believe and change the way we do business in all aspects of our lives.
Roland Bankole Marke © 2014

Short URL: https://www.africanexaminer.com/?p=20808