Alleged Forgery: FG Replies Senators; Urges Saraki, Ekweremadu To Face Trial Or Resign
Featured, Latest News, News
Thursday, June 30th, 2016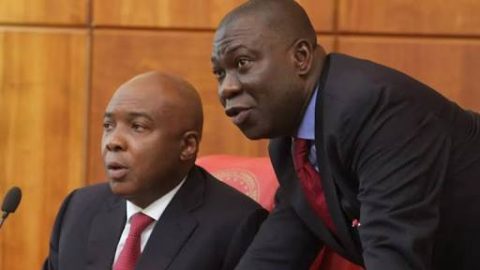 By Niyi Adeyi
ABUJA, NIGERIA (AFRICAN EXAMINER) – Apparently reacting to barrages of verbal assault against it, the Federal Government (FG) has hit back at the Senate, urging the prime suspects in the alleged Senate Standing Rules forgery – President of the Senate Bukola Saraki and his Deputy Ike Ekeremadu to either "face their trial or resign" their positions.
While reacting to accusation of manipulation against FG, Secretary to the Government of the Federation (SGF), Babachir Lawal, said statements issued by both Senate leaders targeting the government and President Muhammadu Buhari as an individual as if the executive arm prompted the forgery case against Saraki and Ekweremadu was not acceptable.
SGF in a statement declared that the statements by Saraki and his Deputy conveyed ''messages that are far from being complementary to the person and government of President Muhammadu Buhari.''
''Senator Saraki in his statement clearly insinuated that Mr. President is not in control of his administration and that a cabal now runs the federal administration.
''On the part of Senator Ekweremadu, he insists that President Buhari is exhibiting dictatorial tendencies that can derail our democracy."
"It is important to emphasize that this case involves only the four accused persons and should not be presented to the unsuspecting public as involving the entire Senate of the Federal Republic of Nigeria.
"The complaint leading to the forgery investigation was reported to the police by some aggrieved Senators who specifically accused certain persons. It is not the Senate of the Federal Republic of Nigeria that is involved and definitely not the House of Representatives.
''To bring the National Assembly as a body into this court case is totally unwarranted. It can only be for other purposes and reasons outside the investigation and legal proceedings."
While citing the case of former House Speaker Salisu Buhari, who forged a certificate showing that he graduated from a Toronto University, Lawal recalled:
"What he did was to resign, honourably. The matter did not even go to court. In that particular case, it was never orchestrated as a matter for the National Assembly. The individual involved did not drag the entire legislature into the matter."
"Our democracy is still evolving and being deepened. The provisions of the separation of powers are entrenched in our Constitution and should guide everyone in our conduct. The rule of law is indeed supreme. This particular case is before the judiciary and is not being decided by the executive arm of government.
"All that has transpired is still within the confines of our laws. These are the rights to accuse, to be investigated and be arraigned before the court. To impute other considerations to the process is unfortunate. We should allow the process to take its course, in consonance with the dictates of the law and total obeisance to the cardinal democratic principle of the separation of powers."
Short URL: https://www.africanexaminer.com/?p=33927