Anambra Guber: Presidency behind Soludo's disqualification
Anambra Election, Obinna Akukwe
Wednesday, August 21st, 2013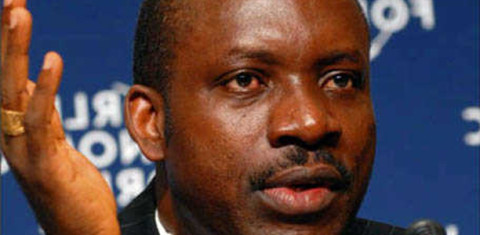 Obinna Akukwe
The disqualification of Prof Charles Soludo from contesting for the governorship of Anambra State under the ticket of APGA has been traced to a presidential pressure from Goodluck Jonathan to the trio of Governor Peter Obi, Chief Victor Umeh and Chief Mrs Bianca Ojukwu . Prof Soludo had earlier been disqualified by the Alhaji Tayo Sowunmi led Gubernatorial Screening Committee of All Progressive Grand Alliance (APGA).
Information revealed that the reasons given for disqualifying the aspirants ranged from non-presentation of their voter cards, lack of evidence of financial strength to execute the campaign, incomplete certificate , failure to submit tax clearance and pending cases with the EFCC. An APGA appeal panel headed by Chief Tony Ojielo upheld Soludo's disqualification and the later has been very moody since the rejection of his appeal . He was reported to have told party loyalists that party chairman, Victor Umeh, Odumegwu Ojukwu's widow, Bianca and Gov Peter Obi had earlier asked him to withdraw his ambitions from APGA because President  Jonathan had asked them to do everything within their powers to stop his candidacy. The screening committee was a smokescreen targeted at Soludo, however, some fall guys including Mr Emmanuel Nweke, Ogbuefi Tony Nnaechetta, Mr Chinedu Francis Idigo, Dr Chike Obidigbo and Mr Oseloka Obaze were made to fall with him.
The chairman of All Progressive Grand Alliance (APGA) Chief Victor Umeh also reportedly informed enraged party chieftains and some prominent Igbo leaders that the order to disqualify Soludo came from above and with the assistance he is expecting from  Abuja to fight his enemies at APGA, he cannot afford to reject a presidential favour.
Professor Charles Soludo, former Governor of Central Bank of Nigeria (CBN) had earlier contested for the Governorship of Anambra State in 2010 and lost to the incumbent Governor Peter Obi. It was known that Goodluck Jonathan, then the Acting President, had frustrated the assembled PDP rigging machinery and ordered them out of Awka on the eve of the election.
Prior to Soludo's entrance into APGA, a major gubernatorial aspirant, Chief Ifeanyi Uba, had earlier fled the party for Labour Party (LP) when he got feelers that the president's influence over APGA could lead to his disqualification at the last moment, exactly what happened to Soludo . With the exit of Ifeanyi Uba, APGA seemed headed for imminent failure in the upcoming polls until Obi convinced Soludo to join the party. Soludo, encouraged  by Gov Obi, joined APGA, and was promised  the party ticket in order to boost their chances at the pools and help checkmate PDP and APC rampage. The deal for Soludo to join APGA was sealed after Peter Obi visited him during the memorial thanksgiving service of her mother-in-law at Isuofia in July where an elated Soludo commended the
governor for laying a solid foundation for sustainable development in Anambra State. Subsequent meetings followed the visit and few days later Soludo declared for APGA.
While the Soludo- Obi romance was on, the presidency was said to be very uncomfortable with the alliance. There is feeling within the seat of power that a Soludo governorship in Anambra State would spell doom for Jonathan's 2015 re-election campaign. They believed that he might mobilize Igbo votes against his re-election. The second reason is that losing a core-Igbo state to someone outside presidential control is not strategic. The presidency believes that Soludo is still loyal to former president Obasanjo and that handing over the governorship to an untrusted ally is very risky. President Jonathan is yet to make up his mind on his choice of candidature for the PDP but there is frantic effort by Senator Andy Ubah to get the his nod. Two known pro-Jonathan candidates, Nze Akachukwu Nwankpa and Barrister Emejulu Okpalaukwu are making efforts to secure the president's approval.
Prior to Soludo's disqualification, the fight for Anambra Guber was meant to be between Senators Chris Ngige of APC, Ifeanyi Ubah of LP, Soludo of APGA and Andy Ubah of PDP. APGA chieftains have condemned the disqualification of Soludo and have threatened to make a protest vote against the party. They accused Peter Obi and Victor Umeh of selling APGA to the PDP while their counterparts in the South West and North are consolidating their gains with APC and newly registered PDM by attracting heavyweights and credible persons to their party.
Obinna Akukwe
Short URL: https://www.africanexaminer.com/?p=382