Anxiety in Lagos As Cholera Outbreak Kills 3 Residents
Ayo Balogun, Featured, Latest News, News
Wednesday, October 23rd, 2013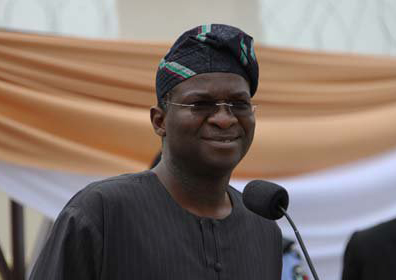 Ayo Balogun, Lagos
There is palpable anxiety in Lagos, Nigeria as cholera outbreak has killed three people, as the Lagos State Government raises the alarm, calling on Lagosians to embrace proper hygiene as the only means of curbing the spread of the disease.
At a news conference on Wednesday evening, the Commissioner for Health, Dr. Jide Idris disclosed that 13 cases of cholera had so far been reported, out of which three people had been confirmed dead.
He said there was the need for members of the public to observe and maintain adequate personal and environmental hygiene at all times as part of the measures to prevent the spread of cholera epidemic which has been detected in the State.
"Although, many of the cases have been treated and discharged in several health facilities, three have been confirmed dead. Most of the suspected cases are from Ajeromi, Apapa, Lagos Island, Oshodi-Isolo and Surulere Local Government Areas of the state."
Idris explained that surveillance activities and investigations by his Ministry had revealed that the suspected cases were contracted from food sources such as the African food salad popularly called 'Abasha', well-water sources especially in areas like Ikare community, Amuwo-Odofin Local Government area and Badia area of Apapa Local Government Area, and other infected foods from food sellers, and other unhygienic habits.
Urging members of the public to be vigilant and report any suspected case, dead or alive, to the nearest health facility and the Directorate of Disease Control in the State Ministry of Health, Idris  noted that cholera is an acute contagious bacterial disease that is characterized by severe form of sudden onset of profuse painless watery stools, nausea and profuse vomiting.
He added that cholera is acquired through the ingestion of an infective dose of contaminated food or water and can be transmitted through many mechanisms like direct or indirect contamination of water or food by faeces of infected individuals.
"Cholera should be suspected in any person who develops diarrhoea with or without vomiting, weakness, restlessness, irritability, dry mucous membrane, low blood pressure, leg cramps, excessive loss of body fluids (dehydration) or dies from frequent stooling, hence, adequate measures should be taken in order to reduce the risk of contracting the disease," Idris stated.
The commissioner listed measures to be taken to reduce the risk of contracting the disease  as washing of hands with soaps and water frequently and thoroughly; boiling of water before drinking if the source of the water is in doubts; washing of fruits and vegetables thoroughly before eating; cooking of food thoroughly before eating; disposing of waste material properly; and keeping of water containers clean.
Idris pointed out that in the case of suspected cholera, members of the public should prepare oral rehydration solution (10 level teaspoonful of sugar and one level teaspoonful of salt in two 35cl bottles); give the suspect a lot of fluids to drink; keeps giving the suspect food as soon as it could be tolerated; and thereafter visit the nearest hospital whether the condition of the suspect improves or not.
"In developing countries like ours, cholera is either endemic or a recurring problem because conditions leading to epidemics exist including presence of peri-urban slums and lack of basic infrastructure. Outbreak of cholera can also occur on seasonal basis in endemic areas," he explained.
The Commissioner advised members of the public to ensure they avoid possible backflow connection between water and sewer system and stressed the need to boil water before drinking if not sure of the source of the water, urging that mothers should also continue to breastfeed their babies having watery diarrhea.
"If you have been in contact with a cholera patient, wash your hands thoroughly after touching any item or surface that may have been contaminated and also dispose of contaminated items properly," he said.
Idris noted government had already evolved an inter-ministerial collaboration involving the Ministries of Health, Environment and Information, Lagos State Waste Management Authority and Lagos State Water Corporation, adding that health and environmental status assessment of prone communities is on-going.
According to him, Emergency Preparedness and Response (EPR) Committees at Local Government and State levels have been sensitized on preparedness and response to cholera outbreak, adding that government has also purchased and distributed to all health centres in local government areas of the state drugs for the management of the disease.
"Healthcare workers in both public and private hospitals are also being sensitized on surveillance  and management of cholera, fact sheet and information, enlightenment and communication materials on cholera have been distributed to all health workers in public hospitals while health education and public enlightenment on personal and environmental hygiene in epidemic prone communities have also been intensified," he stated.
He urged health workers to be on the alert and report suspected outbreak of more than five cases in their facilities to the state Ministry of Health stressing that people can also call the following numbers: 08023169485 or 0802321333 for assistance.
Short URL: https://www.africanexaminer.com/?p=3455