Chapecoense: Bodies of Players, Others Arrive Brazil for Burial
Latest News
Saturday, December 3rd, 2016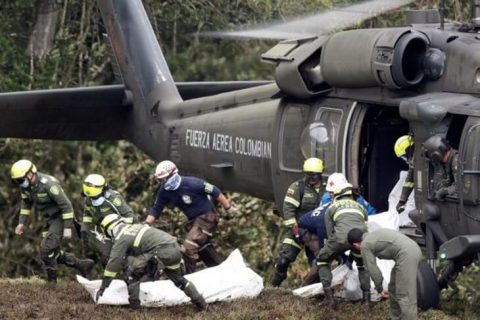 BALTIMORE, MD (AFRICAN EXAMINER) – The bodies of 50 people killed Monday, including members of Brazilian football team in a plane crash have arrived home.
Six days after the incident, the cause of the crash remains unclear. But a recording has emerged from the pilot, asking the control tower for priority to land because he was out of fuel.
A total of 71 people died, while six survived in the crash outside Medellin, Colombia, where the team was due to play.
About 100,000 people are expected to attend a memorial service at Chapecoense's stadium in south Brazil.
Brazilian President Michel Temer was among the dignitaries and relatives who received the planes at the airport.
Fireworks exploded as the first of two military planes arrived in Chapeco early on Saturday.
A procession to the stadium then followed, through heavy rain.
On Friday, hundreds of people lined the road in Medellin to pay their final respects.
The victims include 64 Brazilians, five Bolivians, a Venezuelan and a Paraguayan.
According to BBC, 19 of the dead were players with Chapecoense, while others were support staff and journalists covering the team.
Many fans started to gather in heavy rain outside the stadium early on Saturday, while others have arrived since Friday.
A minute's silence will be held before every football match this weekend, and football's world governing body FIFA, whose head Gianni Infantino is expected to attend the service, requested that all players wear black armbands in remembrance dead players.
The team has been described as having "a fairy story with a tragic ending".
It only won promotion to the country's top division in 2014, but was on its way to the first leg of the Copa Sudamericana final in Medellin when the plane went down.
Short URL: https://www.africanexaminer.com/?p=36777