Children's Day: Buhari Affirms His Promises To Youths'll Be Fulfilled
Featured, Latest News, News
Thursday, May 26th, 2016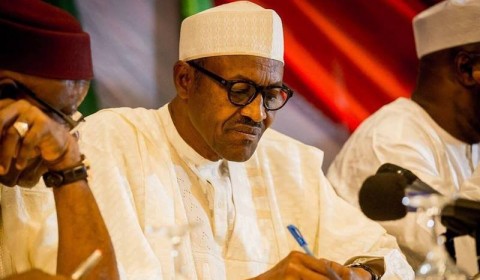 ABUJA, NIGERIA (AFRICAN EXAMINER) – As Nigeria sets to join the rest of the world tomorrow to mark 2016 Children's day, President Muhammadu Buhari has reassured Nigeria children and youth that his government remained fully committed to fulfilling its promise of a better Nigeria for all.
Buhari in his anniversary message reaffirmed his belief that it is the right of every Nigerian child to have access to quality and affordable education, as well as healthcare and other basic necessities for a good life, in a peaceful and secure environment.
"The good health and well-being of Nigerian children remain a top priority on our agenda for national development and we have demonstrated our strong commitment in this regard with the allocation of N12.6 billion in the 2016 budget for vaccines and programmes to prevent childhood killer diseases such as polio, measles and yellow fever.
"Other measures in the 2016 budget, such as the school feeding programme for children at a cost of N93.1 billion, will ensure that more children go to school and enjoy the fun of learning and growing together with their peers" Mr President emphasized in a statement he signed and made available to journalists Thursday .
Buhari noted that despite the current economic and funding challenges facing the country, his administration will continue to do all within its powers to achieve better living conditions and greater access to quality healthcare and education for all our youth.
The President said: "It is a thing of joy that on this year's Children's Day, we can also celebrate the safe return of one of the Chibok girls, Amina Ali Nkeki and many other abducted women and children who have been freed from the clutches of Boko Haram by our gallant troops.
"I assure all Nigerians and friends of the country, once again, that my administration will not rest on its oars until the ungodly terrorist sect is totally eliminated from our country.
"As peace gradually returns to the insurgency-ravaged North-Eastern States, the Federal Government will continue to work diligently to ensure the rapid and full reintegration and rehabilitation of all internally displaced persons, including orphaned children in the region.
"We will also sustain and strengthen ongoing actions to protect children more effectively from violence, child-labour, child-trafficking, forced marriages and other related offences".
The Nigerian Leader urged the youth to imbibe and exhibit in greater measure, the virtues of hard work, diligence, discipline, honesty, prudence, selflessness and patriotism which are essential for the actualization of the country's vision of a truly great nation.
He indicated that the world now looks up to our dear nation, Nigeria as an exemplary model of democratic ideals after the smooth transition that brought our Administration to power.
President Buhari established that youth have a very significant role to play in ensuring "that our democratic institutions of governance are continuously nurtured, improved and strengthened to underpin national development and prosperity.
As he wished them a cheerful celebration President Buahri told the youth to be re-assured that under his leadership, the Federal Government (FG) will continue to do its best to prepare and equip them to show the "world that with its brilliant, resourceful and resilient people, Nigeria is a country of incredible potential and opportunity.
Short URL: https://www.africanexaminer.com/?p=33036