Church showers praises on Gov. Orji for Support on Proposed Clifford University, Aba
Latest News, News From The State
Saturday, March 8th, 2014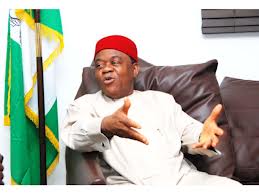 Ignatius Okpara in Aba
The Seventh Day Adventist (SDA) Church, Nigeria has showered encomium on Abia state Governor, Theodore Ahamefula Orji, for granting a waiver on the Certificate of Occupancy (C of O) for the proposed Clifford University Aba owned by the church.
Addressing newsmen in Aba Friday on activities heralding the centenary celebration of the church in Nigeria slated for March 9, 2014, President of the Eastern Nigeria Union Conference of the church, Pastor Bassey  Udoh disclosed that Gov. Orji's support went a long way to accelerate work at the site of the proposed university.
Udoh, explained that the university which is the number 128th built by the church across the globe and the second in Nigeria after Babcoc University, would soon commence academic activities at its permanent site in Ihie, Isiala Ngwa North council area of Abia state.
The cleric, who further praised the governor for ensuring peace and security in the state, added that the SDA Church has recorded remarkable achievements since it came to Nigeria in the year 1914.
Pastor Udoh, who described as divine the coincidence of the church and Nigeria celebrating their centenary, (100) years of existence in 2014, appealed to residents of the state to support the efforts of the government towards making life better for the people.
His words: "If we can just stop looking up to the government for everything and support them by playing our own roles, I think a lot of things will get better in the society, "the clergyman stated.
He noted that the SDA church's remarkable growth has really impacted positively on the Nigerian nation.
"SDA Church is 100 years in Nigeria, God has increased and is still increasing us from only one church in 1923, we now have 584 organized churches and 563 companies. From no district to four in the mid 1920s,
"Today we have 210 districts. From Pastor Benjamin I. Tikili of Nembe, Bayelsa state who was the first convert as well as the only ordained minister in 1924, today we have 200 ordained ministers from only one conference (East Nigeria Conference) in 1978, today we have 9 local conferences and 5 Administrative Units.
"From no hospital and Motherless Babies Home, today, we have 2 hospitals and 2 Motherless Babies Home", saying the church has a lot to celebrate.
Short URL: https://www.africanexaminer.com/?p=8940