Commentary: Olisa Metuh Should Be More Cautious and Reasonable
Articles/Opinion, Latest News
Sunday, June 8th, 2014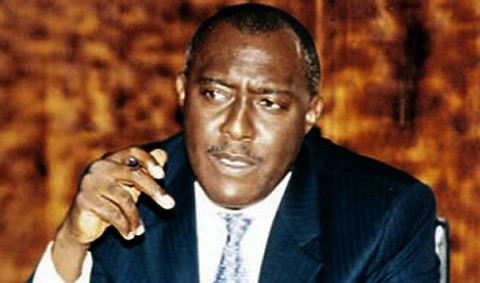 By Tajudeen Balogun
Everywhere in the world, political communication involves processing, coordinating, controlling and disseminating information about the government or political parties' activities, policies, plans, programmes as well as agenda either within a confined setting or in an open society – public. Significantly, such messages are packaged in a manner that guide, educate, enlighten and give hope to the people. Sometimes, the information may be critical, yet must be well and sincerely articulated, such that it aids development and progress of the society. Ultimately, communication, political or otherwise is expected to be one of the supportive tools for a peaceful and cohesive society.
Nigeria has been battling with menace of insurgency in its North-Eastern part since 2009. The security debacle in the recent times, has taken various and intriguing dimensions, a situation that obviously gives impression that government at different levels lack capacity and clout to confront and put final stop to it. No doubt, the sorry situation had since put the Federal government in the bad light, making the country to lose more reputation across the globe. Unfortunately, what has played out recently is an attempt by certain government officials and political stalwarts to use sophistry as a face saving and indictment to others.
After hacking down of over 1000 lives, including many young ones early in the year within the troubled zone, the country early on May 14, was again thrown into mourning as the insurgents stormed Nyayan Motor Park in the outskirt and bordering town of Abuja and Nasarawa state with time bomb. Official death toll indicated over 100 victims either died or injured. Of course, there was another bomb blast few days after in the same area but different spot, although the causality recorded then was fewer compared to the first.
The leading political opposition in the country, All Progressive Congress (APC) has repeatedly and vociferously recommended that the ruling People's Democratic Party (PDP) should dialogue with Boko Haram but it has remained somewhat a suggestion inconsiderable to the ruling party and its hierarchy.
As if he has concluded that the leading opposition has been playing politics with its positions, propositions and statements on the issues relating to Boko Haram insurgency vis-a-vis the chorused "levity and docility" of the government in managing it and in an attempt to pre-empt its critics against the government, the PDP Publicity Secretary Olisa Metuh rushed and publicly indicted APC as the brain behind Nyanya bomb blast. A heavy statement of this grade ordinarily requires weighty evidence and proves. Till date, Mr. Metuh has not provided any, to nail his target.
In a similar stead, PDP spokesperson again last week castigated his rival political party that it nursed the ambition of Muslim-Muslim Presidential ticket. He uttered the statement on the return of former Aviation Minister, Chief Femi-Fani Kayode to PDP after a brief hang about in APC. Metuh was quoted as saying the APC plot which was originally generated from Fani-Kayode was a justification and vindication of his claims and his party that APC indeed is a supporter and financier of dreaded Boko Haram. Still, Metuh so far has never gone beyond the rhetoric, no visible evidence (s) unlike his co-party men who have once been accused of culpability and so been prosecuted.
In this trying period, Mr. Metuh needs not be told to avoid being economical with the truth. Or what do we say to many of previous President Goodluck Jonathan, that have suggested that the President himself and his party are dearth of coordinated initiatives to nip in the bud the bloody insurgency, or that has indicated somewhat that there exist some powerful individuals in the ruling party or in the country who determine what happens rather than the Commanader-in-Chief himself. Let Mr. Metuh refresh his memory and recall that the President has once said his administration has been "infiltrated" by Boko Haram members and agents. The President has also previously submitted in his recent and last Presidential Media chart that no one should ask for his head any more on Boko Haram unrest as he was not a military man, hence has no idea of how to hold and use gun. Recently, one of his Minister, Olajumoke Akinjide, read on behalf of the Federal Government a rather reactionary statement, to the protesting women during one of the 'Bring back our girls Back' rallies in Abuja led by former Education Minister, Dr. Oby Exekwezili that Nigerians should henceforth direct their anger to Boko Haram and stop blaming the government. Not only these, does Mr. Metuh remember that penultimate last week, Minister of Information, Labaran Maku and Governor Babangida Aliyu entangled on castigating statement the former made against the latter and his northern state counterparts on Boko Haram issue? Interestingly, the duo are members of the ruling PDP.
Nigerians are not docile. In every situation, they can sieve the shafts from the grains, regardless of the amount of tricks deplored. The inherent agenda and objectives of the punches from PDP to oppositions on Boko Haram havoc are defined and very clear to not a few citizens of this country home, even in Diaspora. For once, Metuh should realize propaganda can not work any more in this matter. Perhaps, his speculations may go far, if he can convince the world that it is also the oppositions that have instigated so many questionable transactions and dealings that have been one time or the other traced or linked to the present administration.
Better still, can Mr Olisa Metuh be playing politics or partisan if any of his family member (nucleus or extended) happened to have fallen victim of the five-year old senseless killings? The PDP publicist needs to be told if he does know what Nigerians wish the President and the ruling party need to do to address the crisis. What the victims and the rest of the country need now is consolation, determination and willingness to mend fences and end the menace, messages (information and communication) that sooth souls and carry hope, sincere and committed moves to re-orientate people such that they appreciate and collectively work for unity and peace of the nation. Far from it, this country does not need passing of blames especially from those who take responsibility for her security. Therefore, Mr Metuh must be more cautious and reasonable in his information and communication management. This is not the time to play to the gallery.
However, if Metuh fails to reason aloud and along, soon he should expect to be 'fired' by the same party and same people he is showing political sportsmanship on behalf. The records are there in his party. The likes of Dr Doyin Okupe, ex PDP Chairman, Bamanga Tukur, even the fresh returnee, Fani-Kayode and very recently, immediate past Special Adviser to the President on Political matters, Muhammad Gulak. They have all during their former political appointments shown and displayed brazen overzealousness, abuse of power and extreme loyalty to their boss, yet were shown the way out without mercy. Again, Metuh should observe and look very well that displaying of impunity does not necessarily guarantee continuous stay in the office. There are examples of carefree, crafty Ministers but not garrulous in the kitchen cabinet of President Jonathan.
Finally, the country needs, now and always a collective reasoning, patriotic and clearly defined goal and efforts, actions to tackle and confront the avoidable insurgency which has disgracefully and extremely humble the country and her leadership.
Short URL: https://www.africanexaminer.com/?p=12213