Council Boss Counts Losses To Flood In Anambra Communities
Ignatius Okpara, Latest News, News From The State
Monday, October 19th, 2015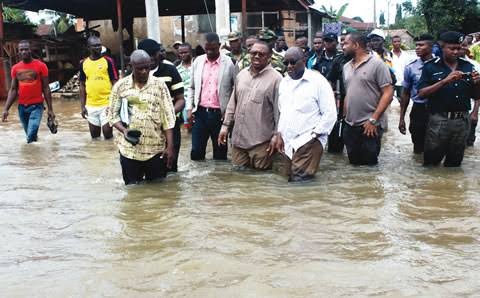 By Ignatius Okpara, Awka
A devastating flood has wrecked serious havoc on seven communities in Anambra West Council Area, including submerging several buildings; destroying farmlands as well as household items valued at millions of naira.
Chairman of the local government Area, Chief Simon Onuora, who spoke to newsmen weekend in Nzam near Onitsha, named the affected communities to include, Umuikwu Anam, Oroma Etiti, Umuemyi Anam, Umueze Anam, Umuoba Anam, Umiata Anam, Olumbanasa and Umudiora Anam.
He said the incident which occurred last week, had grounded economic and social activities in the areas.
The Council boss added that farmlands, crops, school buildings and educational infrastructures as well as household property worth millions of naira were destroyed in the disaster.
He said: "We are not only mindful of what is destroyed already but how to take care of the feeding, shelter, hygiene and Medicare of the thousands of our people displaced,".
"The current development is beyond what we can handle as a grassroots' government"
"The destruction could be put to the tune of N500 million, but we are making efforts to ensure that the National Emergency Management Agency, NEMA, the Anambra State Emergency Management Agency and the Red Cross Society take a trip to this area and see things for themselves.
He appealed to government and humanitarian agencies to come to their rescue.
Also reacting to the ugly incident, the traditional ruler of Umiata Anam, Igwe Sylvester Nnose, appealed to philanthropists to come to the rescue of the people.
"The situation is pathetic and deserves urgent and immediate attention, especially to stem loss of lives due to hunger and lack of hygiene."
The Monarch said the truth is that what they are experiencing now can be likened to that of 2012 flood experience.
"I want to use this medium to call on governments, corporate bodies, groups, faith-based organizations and philanthropists to intervene as quickly as possible.
Anambra was among the States in Nigeria that were seriously affected by the overwhelming 2012 flooding that overwhelmed the nation.
Short URL: https://www.africanexaminer.com/?p=26541