Dickson Condemns Invasion of Aide's Residence, Wants Policemen Prosecuted
Featured, Latest News, News Across Nigeria, News From The State
Saturday, August 27th, 2016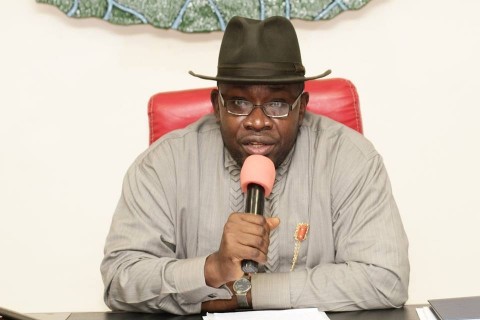 The Bayelsa State Governor, Henry Seriake Dickson has condemned the invasion of the home of his aide, Mr. Richie Etonye, describing it as "an act of irresponsibility."
Etonye's residence in Yenagoa, the Bayelsa State capital, was invaded on Tuesday, August 23 by policemen numbering over 50, allegedly on the instruction of the leaders of All Progressives Congress in Abuja.
Dickson in a statement issued on Saturday by his Chief Press Secretary, Daniel Iworiso-Markson, said since the APC won the presidential election, its leaders in Bayelsa state "have been manipulating the federal security agencies to harass, intimidate and invade the homes of innocent citizens and non- APC members to settle political scores."
According to him, the invasion of the residence of the governor's aide was a classic example of the politicisation of the security agencies.
The statement reads: "These same APC leaders are the ones involved in the killings and ransacking of communities in Bayelsa State, yet they are yet to be apprehended. It is these same politicians that give the false tip-offs to security agencies for invasion of their opponents' homes.
"Government therefore calls on the police and other security agencies to be wary of such false information. They are also advised to confirm such tip-offs from the local security in the state and involve them before taking action. Government however reiterates its commitment to continuously work with the security agencies to sustain the peace and security of the state.
"The federal government should complement the effort of state government of securing the state rather than using the security agencies to undermine the modest stride of the state government.
"Similarly, government calls for the prosecution of those who give false tip-offs as well as the policemen used to carry out these unlawful operations. Government also calls on the public to disregard the antics and cheap propaganda of the APC for it is intended to distract the restoration government but government will remain focused."
Short URL: https://www.africanexaminer.com/?p=35174