Dickson Tasks Volunteers, Others On Investment Drive, Empowerment
Featured, Latest News, News Across Nigeria, News From The State
Saturday, March 19th, 2016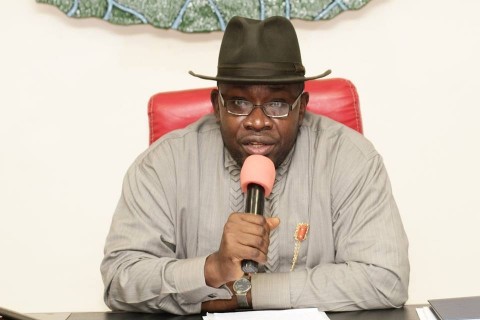 As part of efforts to create a conducive environment for investments in Bayelsa, Governor Seriake Dickson has re-constituted the state Volunteer service to complement the conventional security agencies in the fight against kidnapping and other criminal activities.
Also inaugurated were the Centre For Youth Development (CYD) and Senior Special Assistants on Youths for the 8 local government areas, with a mandate to re-orientate the mindset of youths on self-reliance and development.
Addressing the youths in Yenagoa, Governor Dickson said in the next one year, his administration would aggressively pursue investments in the areas of agriculture, infrastructure, industrialization and job creation, in collaboration with development partners.
He charged the coordinators of the agencies and various youth leaders to work closely with the government in achieving set goals, noting that, no meaningful development would take place in an atmosphere of insecurity.
Governor Dickson called on those engaged in acts of kidnapping and other vices to desist forthwith, stressing that, sponsors of negative reports about Bayelsa were taking advantage of such activities to de-market the state, with a view to scaring away investors.
His words: "What the young people don't know is that, because a lot of people are talking about Bayelsa and they have confidence in this state and in the government and they are coming to invest here. There are people, who do not want these investments to take place in Bayelsa, so they sponsor reports and splash it everywhere, including the Internet.
"They are doing so to de-market this state and if we don't stop these crimes, we will be playing into the hands of the enemies of this state." Already, we are working very hard and in the next one year, you will see a lot of major investments coming to Bayelsa.
He restated his administration's resolve to deal decisively with community leaders, who aid and abet kidnapping, stating that, the operations of the volunteer service would be community-based to make reports on any incident of kidnapping.
"We count on you to be in touch with the grassroots, such that you will know and let the security agencies and the government know those who have done anything wrong; those who are likely to commit crime and work with the security to go after them."
The Governor urged the Centre for Youth Development Board to devise training programmes, geared towards inculcating the right values and skills necessary for their empowerment, as the government alone cannot shoulder the responsibility of creating employment for all.
Mr. Ebarakumo Otobo is the State Coordinator of the Bayelsa Volunteers, while Parkins Ogede is the secretary, with Shakapu Ebinepre as the Coordinator, Bayelsa West Senatorial district, Inenfi Ede, Coordinator, East senatorial district and Joseph Macaiver is to serve as the coordinator Central Senatorial district.
The Centre for Youth Development has Mr. Victor Okubonanabo and Ayaye Obuma as secretary, with Mr. Daubiri Samba, Delaemi Paul, Progress Fabre, as directors.
Other directors include, Mr. Airforce Igoniwari, Bidi Werilaghebofa, Ebiyon Ezeke and Jonathan Omungu.
The Senior Special Assistants to the Governor on Youths for the 8 local government areas are, Mr. Ombu Okubokakpo-Sagbama, Timiondi Agoke-Southern Ijaw, Tari Pori Ekeremor and Emi Dick for Kolokuma/Opokuma.
Others are, Mr. Ebi Turner-Ogbia, Torukoro Penniel-Yenagoa, Terry Thomas-Nembe and Idubamo Theophilus for Brass.
Daniel Iworiso-Markson, Chief Press Secretary to the Governor of Bayelsa State
Short URL: https://www.africanexaminer.com/?p=31078