Ekiti Judiciary: Tale of Two Leaders
Articles/Opinion, Latest News, News, Politics
Friday, October 24th, 2014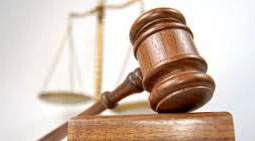 By Lere Olayinka
In 2006, Barrister Bamidele Omotosho chaired the controversial seven-man  Judicial Panel set up by Justice Jide Aladejana, illegally appointed by  the State House of Assembly as Acting Chief Judge against the advise of the CJN, Justice Alfa Belgore. The panel found Governor Ayodele Fayose "guilty".
That was after the panel set up by the State Chief Judge then,  Justice Kayode Bamisile, had exonerated Fayose.
Ex-Governor Kayode Fayemi was among those who got Barrister Omotosho to chair the panel then.
If Barrister Omotosho had not chaired the panel, the political quagmire that happened in Ekiti State in 2006, would not have happened and Fayose would have been re-elected in 2007.
The implication of this is that Fayemi would not have been governor!
#How Fayemi paid Omotosho back#
In March,  2012, the National Judicial Council (NJC) recommended the appointment of Emmanuel Adesodun, Mr. Bamidele Omotoso, and Kayode Ogundana as High Court Judges.
However,  Fayemi refused to honour the NJC recommendations, as he refused to swear in Omotosho and Ogundana.
According to Fayemi, the alleged offence Omotosho and Ogundana was that they discharged their lawful professional duties by appearing before the Election Petitions Tribunals as counsel for opposing political parties against his (Fayemi) political party, the defunct Action Congress of Nigeria (ACN).
Fayemi later sworn in Ogundana, and refused all entreaties from Ekiti leaders like Aare Afe Babalola (SAN), Chief Wole Olanipekun (SAN), prominent traditional rulers and the Nigerian Bar Association (NBA).
Even when the Ado Ekiti branch of the NBA went to court to compel Fayemi to swear in Omotosho,  he (Fayemi) tricked the NBA to withdraw the case, promising that Omotosho will be sworn in immediately. NBA discontinued the case as demanded by Fayemi, but Omotosho was never sworn-in!
Because Omotosho appeared for the PDP in an election petition,  Fayemi flagrantly disobeyed the NJC!
Fayemi also claimed that since Barrister Omotosho was a private legal practitioners, he ought not to have been considered for appointment as judges – as if he knew better than the NJC, the body saddled with the appointment of judges in Nigeria.
Because of Fayemi's vindictive action, Barrister Omotosho could not practise as a lawyer since 2012 because he had already been recommended for High Court judge position by the NJC.
#How Fayose Is Paying Omotosho Back#
Tomorrow, Friday, October 24, 2014, Barrister Bamidele Omotosho will assume office as a High Court Judge in the Ekiti State Judiciary.
He will be SWORN IN on Friday by Governor Fayose.  That is TWO YEARS and EIGHT MONTHS after NJC recommended his appointment!
Barrister Bamidele Emmanuel Omotosho's action in 2006 hurted Fayose and favoured Fayemi. Yet, Fayemi denied Omotosho the opportunity of becoming a judge while Fayose is restoring that opportunity tomorrow.
#Lessons#
Not all those you are helping with your actions will be there for you when they are needed and not all those you are hurting with your actions will pay you back with evil.
Lere Olayinka
SA (Information & Social Media) to Ekiti State Governor
Short URL: https://www.africanexaminer.com/?p=19097