Ekweremadu Raises Concern Over Disprect for Rule of Law By Buhari, APC Govt
Featured, Latest News, News
Sunday, July 29th, 2018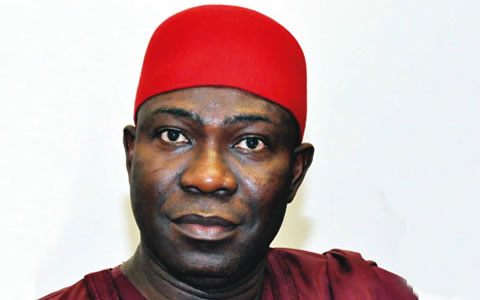 From  Ignatius  Okpara, Enugu
(AFRICAN EXAMINER) – Nigeria's Deputy senate president, Chief Ike Ekweremadu has expressed worry over the alleged alarming rate of human rights abuses and disrespect for rule of law by President Muhammadu  Buhari led All Progressive Congress led Federal Government.
He equally decried the incessant killings in parts of Nigeria, saying "we need to peacefully have a change of this government so that Nigerians we have the benefits of democracy, and the dividends of democracy will be all over the country.
"We want to see a situation where there is rule of law, where the government will not take court orders for granted, where they will  be obeyed without any protest. So, this is the type of country we are looking at and you will believe me if I say that this is not existent in Nigeria today.
He spoke Friday at his Enugu residence, were his teeming supporters and people of his Enugu West senatorial district had converged in their numbers to accord him a heroic welcome after his ordeal in the hands of security men who laid siege in his Abuja home on Tuesday.
The lawmaker said: "We want to see a country that is peaceful, that is united; where there is rule of law, where there will be no dividing line between the North and South, between the Ijaws and Effiks, and between Birom and Fulanis.
"We want a country that we can live peacefully; we don't want a situation where people will find it extremely difficult to go from Abuja to Kaduna, that is unacceptable.
According to him, "the  solidarity march you saw this afternoon is indeed an example of how Nigerians should be able to protest to pass their message without any kind of violence.
"We have had enough violence in Nigeria, we have had enough of death, and we don't want to have it any more.
"So we are looking for a situation where the people live happily and are conscious of the fact that there
is a government responsible enough to protect them and be able to ensure that their lives and property as enshrined in the constitution and the primary purpose of government is enthroned.
Ekweremadu,  a former Speaker of the ECOWAS parliament added: "The whole world looks up to Nigeria to be a leader in Africa. Africa looks up to Nigeria to be a leader to show the way and that was why Mandela said that if Nigeria is  not respected, if we don't earn our respect we will not be respected in any part of Africa.
"So we must be conscious of that so that people will understand that we have a bigger responsibility not only to ourselves but to the whole world that is looking up to us to be leaders in Africa.
"That is why we believe that the struggle we are in now to ensure that democracy stays is sustained in Nigeria, that it doesn't die, is a worthy fight.
"Then,  this is an opportunity for me to advise government to ensure that human rights are respected, there is justice to all, there is fairness, there is equal opportunity for everybody in Nigeria.
"If we do that, Nigerians do not care whether you come from the North or South, anybody can be president forever in Nigeria. What they want is an environment where everybody will thrive, especially for the Igbos who are egalitarian who go about everywhere" he stated.
Short URL: https://www.africanexaminer.com/?p=45149