Enugu Government Anglican Church At War Over Take Over Of Mission Schools
Uncategorized
Friday, February 28th, 2014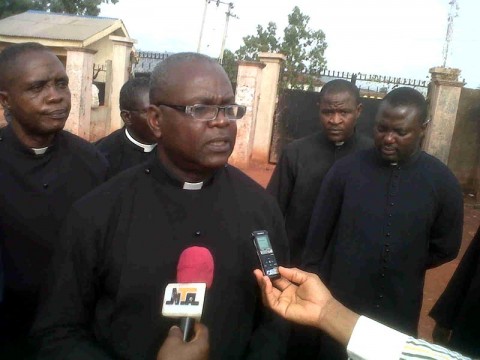 Ignatius Okpara, Enugu
The perceived ongoing cold war between Enugu state government and the Anglican Dioceses of Enugu over alleged moves by the Governor Sullivan Chime led administration to repossess some schools belonging to the church, Thursday took a new twist as over 200 priests and members of the church staged a protest over the development.
As early as 7am, the clergymen, clad in their black religious attire had locked the main entrance gate to the mission schools located in the premises of the old Women Training Centre WTC.
The contentious three  secondary schools includes urban girls, city girls, metropolitan girls as well as three seven primary schools.
African Examiner reports that the protest, which lasted several hours, paralysed both commercial and social activities in the ever busy WTC areas, just as the students were sent home by the protestant.
Enugu state ministry of education had recently written to authorities of the Anglican church in Enugu, informing them of its proposed plans to take over the schools because they were handed over to them in error.
Speaking with newsmen during the protest, secretary, Enugu Anglican Diocesan education Board, Venerable David. Emenike Agbo, accused the state government of engaging in undemocratic acts.
According to Agbo, it is quite unfortunate that the Enugu state government is trying to violate a court order restraining it from doing what she is planning to do in the schools.
He disclosed that the church had early gotten a court injunction, which pronounced that the statusquo should remain in the school.
The Anglican cleric, also wondered why the state government decided to gazette all the mission schools it handed back to churches, with the exception of the Anglican church.
They however, vowed to resist any attempt by the Chime led government to forcefully chase them away from their property.
Reacting to the protest in a press statement made available to African Examiner, the state Commissioner for Education, professor Christopher Okoro, dismissed the church claim.
He explained that  "In 2009, the State Government handed over all schools hitherto owned by Christian Missions (Churches) to their original owners. These owners included Anglican, Catholic and Methodist Missions.
" Following public complaints that some Government Schools had been handed over to some Missions, the State Government set up a committee to investigate the claims, adding that the Anglican, Catholic, and Methodist Churches were represented in the committee.
According to the commissioner, the Committee finished its work and submitted to government, its findings listing all the Schools handed over in error to other owners.
Short URL: https://www.africanexaminer.com/?p=8685