Exclusive – 2015: PDP Begs Governors Okorocha, Amaechi, Fashola, Yari To Defect
Featured, Latest News
Sunday, October 5th, 2014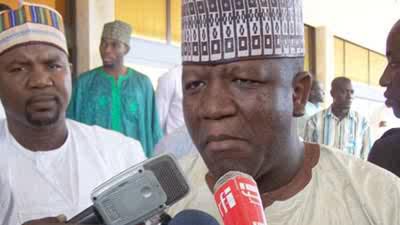 In a bid to enlarge its scope and consolidate control of power, some chieftains and prominent BOT Members of the ruling People's Democratic Party, PDP, have begun moves to woo Governors of Imo State, Rochas Okorocha, Babatunde Fashola of Lagos, Rotimi Amaechi of Rivers and Abdulaziz Yaro of Zamfara state on the possibility of them defecting from their APC to the PDP.
Information at the disposal of US based African Examiner, Per Second News and Global Extra revealed that a former PDP chairman from Kogi state and a national leader of the PDP is said to be coordinating the renewed talks with selected APC governors.
The PDP leaders have tried to call for meetings with the Governor of Lagos, Babatunde Fashola, and his counterpart from Rivers state, Rotimi Ameachi according to a credible source in the PDP with the duo refusing to meet with them and rejecting their overtures.
"These chieftains are attempting to meet with these APC governors in order to deplete their ranks, because there are strong fears in the PDP that as it stands now their candidate, the president, may lose the 2015 election because political calculations are not favoring their party.
As part of the overtures, Okorocha was assured that his second term in office is assured once he is able to defect to the PDP before 2015, and to demonstrate the readiness of PDP to support Okorocha, all the members of the Imo State House of Assembly on the platform of PDP have been urged to work together with Okorocha and make sure that he has smooth sailing in the administration of the state.
It was gathered that even when Gov Okorocha expressed fears that members of APC, will not be happy with him, he was reminded that their party is in crisis of electing its Presidential candidate, and this is the right time to move out of the party as the crisis would be used as the reason for moving back to the PDP.
Governor Abdul'Aziz Yari Abubakar, is also one of the governors in the PDP list, at least two commissioners early this year resigned from his cabinet to join the PDP, followed by two Senior Special Assistants who also formally announced their defection to the PDP in Gusau recently.
Their defection was also announced less than 24 hours after a permanent Commissioner at the State Independent Electoral Commission ZASIEC Alh Abdullahi Marmaro tendered his resignation letter announcing his defection to PDP.
The former governor Alhaji Sani Yerima is confused as he is talking to PDP leaders about defecting but he needs the support of Governor Yari, who has vowed to remain in APC.
Meanwhile, there are strong fears in APC that if PDP's offer is so huge and tempting, Governor Okorocha may dump APC.
"Though we have serious confidence in Governors Amaechi, Fashola and Yari but the same cannot be said of Governor Rochas Okorocha of Imo state, especially if PDP's deal is irresistible" our source stated
Short URL: https://www.africanexaminer.com/?p=18315