Exclusive: APC Not Interested in Reps Leadership Change –Lai Mohammed
Featured, Latest News, News
Wednesday, January 15th, 2014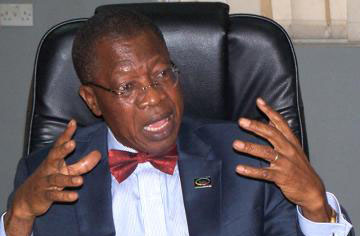 Despite its new majority in the House of Representatives, Alhaji Lai Mohammed, the Spokesperson of the Nigeria's main opposition party All Progressive Congress (APC) says for now the party is not in interested in "regime change" in the green chamber.
Lai Mohammed who stated this in an exclusive chat with the African Examiner added that the party would only use its newfound majority to make good laws for the country.
"Regime change in the House of Representatives is not the priority of the party at the moment. Rather the party will use the newly acquired majority to make good laws for the benefit of all Nigerians." He assured.
African Examiner's question to the opposition party is due to the ongoing debate whether the party will move swiftly to effect leadership change in the House of Representatives due to its new majority, thanks to the mass defection of members of the crisis-ridden ruling Peoples Democratic Party (PDP) to the main opposition party.
The APC position corresponds with the views of some members of the House Representatives as recently expressed at a news conference organised by the chairman of the house committee on rules and business Hon Sam Tsokwa.
Tsokwa said at that press conference that "For the avoidance of doubt, the leadership of the House of Representatives as embodied in the Presiding Officers emerged from the popularity of the candidates on one hand and the popular votes of members on the other and not strictly on party affiliation.
"Therefore, defection or no defection, the leadership of the House of Representatives remains intact, having enjoyed and is still enjoying the confidence of the members."
Short URL: https://www.africanexaminer.com/?p=7266