Exclusive: Okorocha Abadons Presidential Ambition, Begs Imo People For Second Term
Featured, Latest News, Politics
Monday, March 3rd, 2014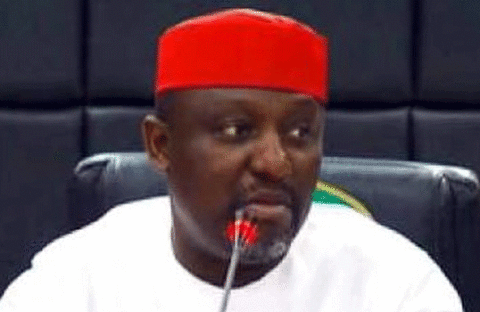 Ignatius Okpara in Owerri
There are strong indications that Imo state Governor Rochas, Okorocha has dumped his 2015 presidential ambition so as to allow him concentrate on his second term bid.
Close sources to the Okorocha's led government who do not want his name in print told African Examiner in Owerri on Monday that the Governor has dumped his second term dream.
He said one of the reasons for the Governor's decision is to enable him complete the numerous ongoing projects his administration has embarked upon in various parts of the state.
According to him, "we are already consulting with major stakeholders in Imo to that effect, and the response we are getting has been tremendous.
However, our correspondent gathered that the All progressive Congress APC Governors forum chairman, is currently in dilemma over the one-term promise he made to the people of the state before the 2011 election and his much touted presidential ambition.
Okorocha, had dumped his former party, the crisis- ridden All progressive Grand Alliance APGA, for the opposition APC because of his much rumoured presidential ambition.
African Examiner recalled that during the 2011 gubernatorial debate at the Maria Assumpta Catholic Cathedral, Owerri,  Okorocha had promised to do just one term of four years if elected.
He also told the people of the state during the debate that he was bigger than governorship position and that he was "descending from presidential level to contest for governorship position in order to rescue" them.
The Governor, equally added then that the governorship position would serve as a springboard for him to properly launch himself for presidential election in 2015, after two attempts.
The source also told our correspondent that Governor Okorocha is reconsidering his comments during the 2011 election campaign and, as a result had made moves to return for second term.
According to another source, "in a meeting held at the government house recently between him and leaders from the 305 wards in the state, Governor Okorocha had asked them to say their minds about his presidential/vice presidential ambition and a possible return for second term as Imo governor.
The leaders were said not to have given him any definite answer, a development that made him to ask them to go to their respective wards and communities to get their opinions and possible support for the second term project.
Okorocha,  was said to have specifically appealed to them to influence their people to beg him to declare for a second term so that he would hinge his position "on the pressure from the people" so as to enable him complete the  projects his administration began in the state.
Short URL: https://www.africanexaminer.com/?p=8750