FG Constitutes Technical Committee On Harmonization Of Pension Benefits Payment
Featured, Latest News, News
Tuesday, May 24th, 2016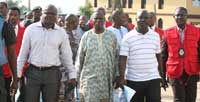 ABUJA, NIGERIA (AFRICAN EXAMINER) – The Federal Government (FG) has constituted a 10- man Technical Committee to look into the "synergizing and harmonizing" the mode and procedure for prompt payment of pension benefits in the Public Service in Nigeria.
Head of the Civil Service of the Federation (HCSF), Mrs. Winifred Oyo-Ita announced this Tuesday in Abuja, while constituting the committee during a tripartite meeting between her Office, the National Pension Commission (PENCOM) and the Pension Transition Arrangement Directorate (PTAD).
In a media statement signed by the Assistant Director (Media Relations) in her office, Muhammad Manga, the first Federal Public servant, said the setting up of the committee became necessary in order to ensure "prompt payments of the pensioners entitlements in the Public Service".
"There is the need for synergy between HCSF Office, PENCOM and PTAD so as to ensure efficiency in handling pension matters" she noted.
Mrs. Oyo-Ita expressed concern over how Public Servants after serving the country meritoriously for 35 years or after attaining the mandatory retirement age of 60 years have to wait for so long before they could receive their retirement benefits and monthly pensions.
She stressed it was not ideal for any Public Servant to pass through any difficulty, hence, their dues must be addressed immediately.
PENCOM Director General (DG), Mrs. Chinelo Anohu-Amazu, in her remarks, said the Commission was ready "to do everything humanly possible within the ambit of law to ensure that retired Public Servants henceforth continue to receive their retirement benefits and monthly pensions as at when due," adding that there was the need for the three offices to work together for the realization of the noble objective.
Manga indicated that PTAD Acting Executive Secretary, Mr. Murtala Olawale Toyin assured at the meeting, readiness and commitment of the Directorate to ensuring that Public Servants who retired from service are not subjected to untold hardship before they receive their retirement and monthly payments.
The committee is headed by the Permanent Secretary, Common Services Office, in the Office of the, HCSF Mr. Yemi Adelakun has three members, each drawn from the Office of the HCSF, PENCOM and PTAD.
The terms of reference of the committee include: to identify the current challenges hindering the prompt payments of retirees benefits; to work out modalities for ensuring the smooth and prompt payments of retirees benefits as at when due and to recommend any other things that will assist Government to achieve the purpose of pension for retirees.
Short URL: https://www.africanexaminer.com/?p=32943