Finally, Buhari Signs 2018 Budget; Expresses Concern Over Changes
Featured, Latest News, News
Wednesday, June 20th, 2018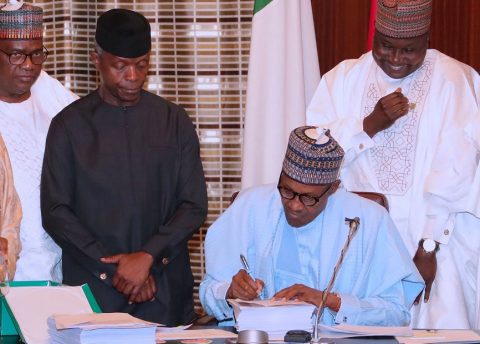 Photo: President Buhari signing the 2018 Nigeria's budget
(AFRICAN EXAMINER) –  President Muhammadu Buhari on Wednesday signed the 2018 Appropriation Bill of N9.12 trillion into law after seven months of its submission to National Assembly (NASS).
The President, however, expressed concern over changes made by NASS to the budget proposal.
The Federal Executive Council (FEC) had on Oct. 26, 2017 approved the 2018 draft budget of N8.612 trillion but NASS increased the budget from N8.612 trillion earlier proposed to N9.12 trillion.
The Senate also increased the crude oil benchmark for the budget from 45 dollars per barrel to 50.5 dollars per barrel.
Buhari then noted with concern that the National Assembly made cuts amounting to N347 billion in the allocations to 4,700 projects submitted to them for consideration and introduced 6,403 projects of their own amounting to N578 billion.
The President said "many of the projects cut are critical and may be difficult, if not impossible, to implement with the reduced allocation.  Some of the new projects inserted by the National Assembly have not been properly conceptualised, designed and costed and will therefore be difficult to execute.
"Furthermore, many of these new projects introduced by NASS have been added to the budgets of most MDAs with no consideration for institutional capacity to execute them or the incremental recurrent expenditure that may be required.
"As it is, some of these projects relate to matters that are the responsibility of states and local governments, and for which the Federal Government should therefore not be unduly burdened.''
The President pointed out that another area of concern was the increase in the provisions for Statutory Transfers by an aggregate of N73.96 billion by NASS.
According to him, most of the increases are for recurrent expenditure at a time when the administration is trying to keep down the cost of governance.
He said: "an example of this increase is the budget of the National Assembly itself, increased by N14.5 billion from N125 billion to N139.5 billion without any discussion with the Executive.''
The President, however, thanked the leadership of NASS, particularly the Senate President and the Speaker of the House of Representatives, Senators and members for passing the 2018 Appropriation Bill after seven months./(NAN)
Short URL: https://www.africanexaminer.com/?p=44564