FRSC Backslides On New Number Plate Enforcement; To Begin Nationwide Public Campaign
Featured, Latest News, National News, News
Friday, August 1st, 2014
Ahead of ruling by Court of Appeal, the Federal Road Safety Corps (FRSC) has temporarily backed down on the enforcement of the new number plate scheme.
Consequently, FRSC said it has directed its Commanding Officers nationwide to begin national public campaign on the development, the importance of the scheme, its benefits and the reasons why Nigerians should support it.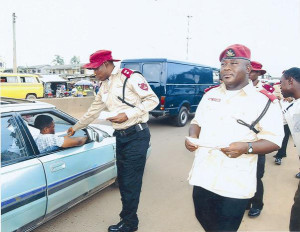 In a statement its Corps Commander, on Public Education, Jonas Agwu, in Abuja on Thursday, FRSC explained that the new directive was in line with decisions taken by the Joint Tax Board at its 129th meeting held on April 23 and 24, 2014 at the Benin Headquarters of Edo State Internal Revenue Services,
"In the light of the court judgment against the FRSC, the board decided to suspend the June 30, 2014 deadline earlier announced for a change to enhanced Motor Vehicle Number Plate and the Driver's License pending the outcome of the appeal by the FRSC.
"The States Internal Revenue Service, the Federal Road Safety Corps (FRSC) and the Vehicle Inspection Offices (VIOs) have been encouraged to put all necessary logistics in place to improve Motor Vehicle registration and issuance of Driver's License in order to build a comprehensive database," revealed the statement.
Similarly, the agency has directed its Commanding Officers to explore all available platforms such as motor park rallies, advocacy visits and other forms of public engagement in keeping with its 2014 strategic goal of improved public communication and roadside education.
The latest FRSC decision may not be unconnected with the two different court rulings, nullifying the power of the agency to enforce imposing new number plate and impounding vehicles without it. Two deadlines – September 30, 2013 and June 30, 2014 had been announced by FRSC within over year after the new number plates were launched.
Short URL: https://www.africanexaminer.com/?p=15431