Governor Amaechi Presents N485.5 billion budget For 2014 To House of Assembly
Featured, Latest News, News
Tuesday, January 7th, 2014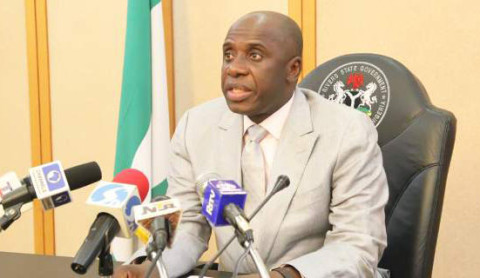 By Femi Kehinde
The Governor of Rivers State, Rt. Hon. Chibuike Rotimi Amaechi, on Tuesday presented to the state House of Assembly a budget of N485.524 billion for the year 2014.
This is N4.797 billion lower than the 2013 budget of N490.320 billion.
In the 2014 budget, Capital expenditure will gulp N117.09 billion while the state will spend N368.43 billionfor his recurrent expenditure. Recurrent expenditure takes 24.12 percent of the total budget, while capital expenditure represents 75.88 per cent.
The capital to recurrent ratio is 76:24 for the financial year 2014 as against 70:30 achieved as at September 2013.
The Governor at the presentation to the state house of assembly said the focus of the budget will be on completing ongoing projects in Health, Education, Roads, Transport, power, Water and Agriculture and other critical infrastructure.
Financing the budget, Governor Amaechi explained that "The Proposed 2014 Budget of N485.524 billion will be funded by: FAAC Allocation of N241.243billion; IGR of N92.420billion; Prior year balance of N10.717billion; proposed loans N100billion; credit from World Bank- N6.983billion, EU grant of N0.660 billion and sale of assets of N33.5billion"
The Governor reiterated that the economic sector is of priority to his administration. He told the Assemblymen that the Government's objective in 2014 is to deliver sustainable infrastructure to drive economic growth.
"Our commitment to our ongoing agricultural projects will continue, being our hope of generating employment. It is expected that most of road projects will be completed in 2014.
"The prospect of our 24hr power supply target looks achievable in 2014 considering the level of investments so far and the new investments in  planned for this year. We are continuing with the network upgrading through provision of 20 Nos injector substation/33∝11kv OHL, 280 distribution – Transformers ∝TDC Rumuosi transmission substation.
"Also we will continue the construction of New Afam 180mw GTS phase II. Completion of construction of 6 injector substations at various location (6x15MVA) 33/1kv, New Afam 18mw Gas Turbine power station, Transmission line at 132KVA.
" We will be finalizing construction of the first phase of the monorail project before the end of this coming fiscal year. He added.
In the social service sector, Governor Amaechi noted that his government is raising the standard of education and healthcare in the State.
According to him, "significant resources will continue to be provided to improve and sustain these efforts. All outstanding projects here will be completed, in the area of furnishing of 2 model secondary schools, procurement of ICT equipment in school furnishing of 250 model primary school, completing of 100 new schools which was started in 2009 among others.
"This will also include amongst others: construction of Chief A.K. Hart hospital; upgrading of 3 zonal hospitals; and construction of 10 new health centres among others.  The operation of free medical services to all residents of the state will continue to be our focus", he said.
Short URL: https://www.africanexaminer.com/?p=6932