Group Commends Gowon for Accepting Igbo Son after 48 Years
Featured, Latest News, News
Tuesday, March 29th, 2016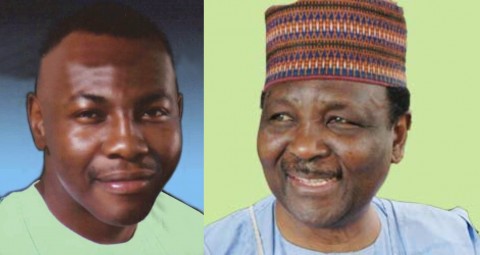 BALTIMORE, MD (AFRICAN EXAMINER) – Igbo Mandate Congress, IMC, has commended Nigeria's former Head of State, General Yakubu Gowon for accepting responsibility for the paternity of his Igbo Son, Jack Musa Ngonadi Gowon, after forty eight years of denial, abandonment, victimization and slander. Gowon had in a signed statement two weeks ago, accepted paternity over his Igbo son, after 40 years of civil war.
Igbo Mandate Congress recalls that Jack Ngonadi Musa Gowon was jailed by the United States authority twenty two years ago, due to drug related offences. IMC believes that Musa Gowon was a victim of tribal hatred, frustration and rejection which led to loss of over two million Biafrans civilians between 1966 and 1970, including a torn love relationship between her mother, Edith Ike and then Head of State Colonel Yakubu Gowon.
Igbo Mandate Congress have initially made arrangements, as disclosed publicly, in the press release of November 25th to accord Musa Gowon, a rousing welcome, whenever he was released by the US Immigration authorities, en-route Nigeria.
Igbo Mandate Congress noted that Edith stood by her Igbo kinsmen in correcting senseless murder of two million people and sacrificed her prospects of being a First lady, in defense of innocent civilians, mostly children..
Igbo Mandate Congress duly informed Nigerians in the earlier press statement of November 25th 2015 that "Musa Gowon was borne out of a courtship gone awry between former Head of State Yakubu Gowon, then a Lieutenant Colonel and an Igbo Girl by name Edith Ike-Okongwu while he was still a bachelor,"
"This relationship between Gowon and Edith Ike ended in the heat of the civil war. It is widely believed that the relationship broke off after Federal Troops bombed Aba General Hospital with NAF Napalm Bomb on July 14, 1968 killing more than 500 patients.
"Edith was said to have expressed disapproval with Gowon over the deliberate bombing of Biafran civilian soft targets and the romance was brought to an end. Prior to that, Edith Ike's parents, though from Aro-Ndikelionwu in Orumba North Local Govt of Anambra State but lived in the north for over thirty years, relocated back to the East after the first wave of pogrom of 1966."
"Igbo Mandate Congress also calls on the Federal Government to ensure that this boy is rehabilitated so that those evil memories of the civil war is not resurrected and used by desperate politicians.
"Igbo Mandate Congress also called on Igbos in the United States to assist to assist Musa Gowon Ngonadi because "he whom has been rejected should not reject himself"
"Igbo Mandate Congress also expresses gratitude to the United States President Barrack Obama for the pardon granted Musa Ngonadi Gowon in the spirit of reconciliation and demand good treatment of this man born under the contradictions of love, hate and an unnecessary civil war."
Igbo Mandate Congress wishes to express appreciation to its members and well-wishers in the United States who heeded the clarion calls and mobilized resources to ensure that from the airport, this boy is given warm send forth.
Igbo Mandate Congress also wishes to appreciate all well-meaning Igbos in Nigeria who were on standby to accord this abandoned kinsman a welcome back to his roots. The inability to grant the welcome as planned was because the Immigration authorities in the US played on the intelligence of well-meaning people, and he was deported days earlier than tscheduled, probably , to avoid perceived family embarrassment, which was never intended by IMC.
Igbo Mandate Congress appreciates well-meaning Nigerians from within Ohanaeze and other Igbo leaders who expressed caution that the planned reception may exacerbate the then ongoing Biafra agitations and reopen old wounds. The same fears were expressed by some elements within the north, through their links to IMC. Though their fears were misguided, IMC  still appreciates their concerns over the corporate existence of Nigeria.
Igbo Mandate Congress wishes to appreciate some extended members of the Gowon family and their friends who volunteered valuable information to IMC, and promised to mount pressures to ensure the right thing is done to rehabilitate Musa Gowon.
Igbo Mandate Congress IMC appreciates President Barrack Obama for releasing Musa from the penitentiary, and IMC still believes that Musa was implicated in the entire drug saga. IMC noted that he would have left the prison since, had he accepted to implicate some other persons, thus the spirit of betrayal is not part of the young man.
IMC wishes to posthumously commend Edith Ike Okongwu for standing by her people in times of difficulty, and prays that those who exacerbate ethnic differences in Nigeria will live to regret their actions.
IMC also wishes to commend ex-Head of State Yakubu Gowon finally accepting Musa Gowon as his son, after forty eight years of denial, and sees this as another step towards healing the wounds of that unnecessary war between Nigeria and Biafra.
Rev Obinna Akukwe, Director General, Igbo Mandate Congress IMC
igbomandate@yahoo.com
Short URL: https://www.africanexaminer.com/?p=31336