Herdsmen Attack: Enugu Assembly Wants All Security Chiefs In Enugu Redeployed
Latest News, News Across Nigeria, News From The State
Sunday, May 8th, 2016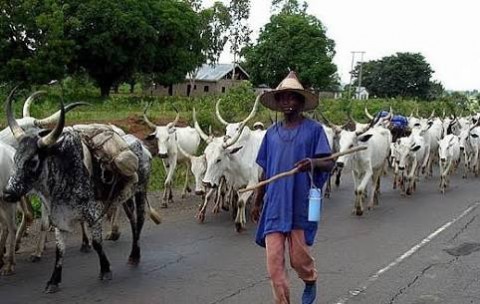 By IGNATIUS OKPARA, Enugu
ENUGU, NIGERIA (AFRICAN EXAMINER) – Angered by the recent attack on Ukpabi-Nimbo Community, in Uzo-Uwani council Area of Enugu State by suspected Fulani herdsmen, members of the Enugu State House of Assembly, have asked President Mohammadu Buhari, to redeploy all the security chiefs in the state.
The lawmakers made the call during their plenary session in Enugu.
While condemning the bloodbath penultimate Monday, 25th, April, the House declared that what transpired at Nimbo Community should be conveyed to all the international human right organisations even as they blamed security agencies in the state for lapses and failure to prevent the attack.
Thanking his colleagues for making robust contribution to a motion brought by the member representing Uzo-Uwani at the House, Hon. John-Kevin Ukuta, on the menace of Fulani herdsmen, speaker of the House, Hon. Edward Ubosi urged the people of Enugu State not to live in fear or to take laws into their hands as government is doing everything to protect their lives and property.
He said "I thank you all for your contribution to the motion, you all spoke from your heart because human lives were involved.
"However, I urge the people of the state not to live in fear or to take laws into their hands,"
All the members who spoke on the issue, condemned the dastardly waste of lives and property at Nimbo and other places in the state.
Hon. SKE Ude-Okoye representing Awgu North in his contribution said that if nothing was done, the entire Igbo nation would be in trouble.
He said the attack was a calculated attempt to whittle down the population of the Igbo race.
"We, the Igbo people are in trouble.  Majority of us have been affected.  They want to reduce the population of Igbo men.
"They want to continue the Civil War which was tagged, 'no victor, no vanguished," Ude-Okoye fumed.
He wondered what the Igbo man has done to deserve the type of treatment being meted to them in Nigeria.
"Where shall we run to.  Have we the Igbos done anything evil.  Tell us and we'll apologise to you.  Are we not part of Nigeria?  Is the life of a cow worth more than that of human life?" He queries.
Ude-Okoye suggested that the House should urge the government to adopt the security measure employed by Anambra, Delta and Bayelsa states in curtailing Fulani herdsmen menace.
He was however, overruled by the speaker who said Enugu should not borrow but adopt a peculiar security strategy.
In his contribution, Hon. Chinedu Nwamba of Nsukka East suggested that the way out of the logjam is to enact a law militating against the herdsmen moving from one place or the other in the state.
Nwamba is of the view that if nothing drastic is done, the ugly incident might recur.
"This is a heinous act.  It is inhumanity to man.  My heart is bleeding.  If drastic action is not taken, something more drastic might happen.
"We cannot continue talking, action must be taken.
"I am not saying that people should not do business but after talking grammar without a law, it will not have any effect," he said.
Member representing Nsukka West, Hon. Dame Nkechi Omeje-Ogbu in her contribution lamented that Igbo people had been reduced to nothing and said that if nothing is done, a worse thing might happen.
Omeje-Ogbu posited that the cattle rearers should live the state and go and wondered what was meant by one Nigeria.
"I don't know what people call one Nigeria.  Is this what we call one Nigeria?  It cannot continue like this.  If we are one Nigeria, they should let us be.  I have stopped eat Nama Cow.  Let them go," she opined.
Hon. Ethel Oyibo Ugwuanyi who represents Igbo-Eze North1 equally suggested that the Fulani herds men should vacate Enugu State for peace to reign, while Hon. Anthony Ogidi of Igbo-Eze NorthII, suggested that security posts should established at the border communities of Igbo-Eze North and South as well as Isi-Uzo local governments to check the influx of Fulani herds men into the state.
Hon. Iloabuchi Aniagu, Nkanu West said Enugu State should protect themselves from extermination.
"Every community should go home, make donations and protect themselves.  We'll attack the invaders so that they will let us be," Aniagu submits.
Hon. Paul Nnajiofor of Nkanu East opined that the people should go on strike neither to buy nor to eat cows.
"They are not ordinary herdsmen, they are Boko Haram.
"We must stand up to defend our communities.
"This is a calculated attempt to exterminate us, we should go on strike not to eat nama cow and desist from eating suya.
Short URL: https://www.africanexaminer.com/?p=32495