Igbo Group Endorses Buhari for Second Term
Featured, Latest News, News
Friday, November 23rd, 2018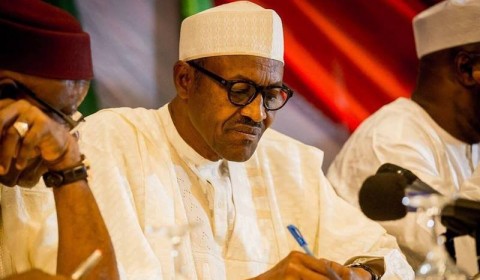 From   Ignatius   Okpara, Enugu
(AFRICAN EXAMINER) – The second term in office ambition of Nigeria's President, Mohammadu Buhari has received a boost, as a famous socio cultural organization  and think-tanker group in Igbo land, under the platform of  Igboezue Cultural Advancement Initiative, endorsed his re-election bid.
African Examiner reports that the development is coming barely two weeks after some Igbo leaders, including president – General of Ohaneze Ndigbo, chief Nnia Nwodo, endorsed former Vice president, and People's Democratic party PDP candidate, Alhaji Atiku Abubakar's ambition during an event in Enugu.
President Buhari is the Presidential Candidate of the ruling All Progressives Congress APC in the 2019 general poll.
National Leader of the group who is also the National chairman of opposition United peoples party UPP, Chief Chekwas Okorie, made the position of the organization known in Enugu during a press conference.
It would be recalled that UPP had earlier adopted President Buhari as its sole presidential candidate in 2019.
The Igbo leader, said that the resolution of the group was coming after an extensive consultations and liaison with extant Igbo associations, institutions and stakeholders within and outside Igbo-land on the state of Igbo nation especially in the national polity.
Okorie said: "We are aligning with United Progressive Party (UPP) in its wise decision to endorse and adopt President Muhammadu Buhari as its Presidential Candidate for the 2019 General Election.
"We will do everything within our power to ensure that Ndigbo do not put their eggs in one basket either now or in the future.
According to him, "We shall work for the completion of President Buhari's second term in office in other to have the way for a patriotic Igbo-man or woman to be elected President of Nigeria in 2023.
"In this regard, we strongly believe that the four more years of Buhari will be far better and more bearable than the possible eight years of Alhaji Atiku Abubakar administration, which will bring back to our people, the sad memories of 16 years of PDP emasculation of Ndigbo''.
Okorie further raised doubts over the possibility of Atiku fulfilling his pledge of restructuring Nigeria, saying  "we are conscious of the truth that the PDP has not made any form of commitment to the restructuring of Nigeria or the much desired Igbo President of Nigeria any time in the near future.
"Anything the party says now will definitely be an afterthought, we are not impressed by Atiku's rhetoric on restructuring when the PDP, his political party does not believe in it and has made no commitment to Nigerian people on the vexed matter of restructuring''.
Okorie, accused the PDP of sidelining Ndigbo for the 16 years it steered the affairs of the nation, stressing that Igbo people were deceived into investing totally into the party.
"For a long period of 16 years, Igbo people were misled into investing their political capital almost 100 per cent with the PDP", adding that Igbo people are mere passengers in the PDP political vehicle.
"In this long period of political servitude, the PDP-led Federal Government without a single exception ensured that the entire South-East zone became one large area of abandoned construction works.
"If this is not deliberate, then what will be the explanation for the very painful fact that in 16 years there is no project that was started and completed by the PDP government in any part of the South-East?
"However, being faced with an impending general election, we have resolved not to stand by and watch our people misled again by putting all our eggs in one basket again.
The Igboezue boss, insisted that "the putting our eggs in one basket option is largely responsible for our outright irrelevance in the politics of Nigeria, leaving us perpetually lamenting about our unfortunate situation regime after regime" he stated.
Short URL: https://www.africanexaminer.com/?p=46604