Implementation Of Confab Report, Next Phase Of Nigeria's Struggle – Gani Adams
Featured, Latest News
Wednesday, May 13th, 2015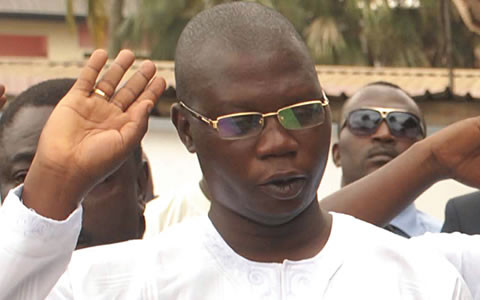 The National Coordinator of the Oodua People's Congress, Otunba Gani Adams, has said the next phase of the struggle in Nigeria will be the implementation of the report of the National Conference held last year.
Adams, who is also the Convener of the Oodua Progressive Union, an association of the Yoruba and people who believe in the Yoruba cause in the Diaspora, said this in Dubai, United Arab Emirate on Tuesday.
Adams, who was a member of the Confab, said the report of the conference, convened by outgoing President Goodluck Jonathan, contained far reaching decisions that are capable of turning around the fortunes of the country if genuinely and sincerely implemented.
He said despite the fact that Jonathan who convened the Confab was leaving power, it would be uncharitable for the report to be thrown away.
He said: "Throwing the report away will amount to throwing away the baby with the bath water.
"We have a report put together by men and women from diverse backgrounds but with sincerity of purpose to move the country forward.
"My observation throughout the conference was that once we entered into the venue, we put our differences, nuances and biases behind us and discuss as people who truly have the interest of Nigeria and Nigerians and heart."
Adams said perhaps the most critical aspect of the conference report should be the implementation of true federalism in the country.
One of the critical recommendations of the report of the conference, which gulped over N7 billion, was the institutionalisation of federalism in the country.
Adams said in Dubai on Tuesday: "Even if that happens to be the only aspect we implement, others are going to fall in place naturally.
"We as Yoruba race will push vigorously for the implementation of the report of that conference.
"It is, perhaps, going to be the next phase of the struggle in Nigeria as the incoming government of General Muhammadu Buhari will be encouraged to implement the report, which is capable of putting Nigeria back on track fully."
Adams is scheduled to meet with members of the OPU in the UAE and neighbouring countries while in Dubai.
Short URL: https://www.africanexaminer.com/?p=23513