Military Ends Newspapers Clampdown
Latest News, Trending Stories
Tuesday, June 10th, 2014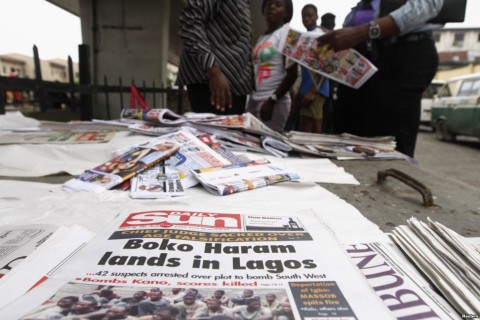 At last, the Military has ceased the war it declared on sales of national newspapers across the country last weekend.
Consequently, newspapers restricted from circulation in the past five days have returned to the newsstand.
This development came as Nigeria Labour Congress, NLC, urged media owners and vendors to demand compensation for losses suffered as a result of the action by the military.
The vans of the dailies affected were not intercepted at the usual Military check point along Abuja-Suleja-Minna road where they were usually intercepted, neither were soldiers seen at the distribution centre near Obasanjo Complex where they officially searched parcels of different titles before being circulated.
Yesterday morning, all the restricted dailies, including The Nation, Daily Trust and Leadership, were seen on the stands, with the vendors freely displaying them for people to pick.
The three dailies were worst hit by the military action.
Niger State chairman of Vendors Association, Mr. Festus Elijah, thanked the authorities for intervening and assured that they would continue to cooperate with all concerned to avoid crisis in the country.
Meanwhile, Nigeria Lagour Congress, in a statement issued yesterday, called on owners of affected media houses and vendors to seek payment of compensation from the military for losses incurred from the clampdown.
The NLC in the statement by the President, Mr. Abdulwaheed Omar, also called for arrest and punishment of soldiers involved in the show of shame
The statement, entitled "Stop Disrupting Newspapers Circulation Now!" read: "The ongoing harassment of newspaper vendors, which includes seizure of newspapers, arrest of circulation drivers of several newspaper publishing companies as well as depriving the reading public access to information by operatives of the Nigerian military and other security agencies  is absolutely unacceptable and clearly out of place in any democratic society.
"The military and all the security agencies ought to know that all fundamental rights are germane to democracy and therefore, lack constitutional and legal rights to unilaterally order the circumscription of freedom of press or any freedom in any form as we cannot find the link between insecurity and a free press in democratic governance."
Vanguard
Short URL: https://www.africanexaminer.com/?p=12395