My Meeting With OBJ, Atiku Not Political, But Mediation, Says Kukah
Featured, Latest News, News
Monday, October 15th, 2018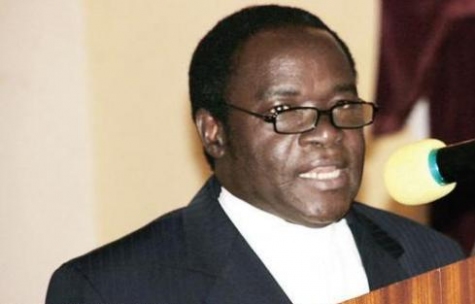 (AFRICAN EXAMINER) – The Bishop of Roman Catholic Diocese, Sokoto, Matthew Hassan Kukah has clarified that his meeting with the former President Olusegun Obsanjo and his VP, Atiku Abubakar in Abeokuta last week, is not about endorsement of candidate of a particular political party, rather, a personal effort that has been on since, to ensure the two leaders forgive each other and reconcile.
The prominent cleric made the clarification in a statement he personally issued last weekend.
''I was not in Abeokuta to endorse Alhaji Atiku Abubakar, the candidate of the Peoples' Democratic Party. I perfectly understand the feelings of many of my friends and members of the opposition who believe that I travelled with Alhaji Abubakar and his team to attend his endorsement by President Obasanjo, but I reiterate that this was not the case.
''All the bills for my travel were settled by the Four Square Gospel hosts for the earlier dated programme who had bought my tickets, booked accommodation for me and took care to get me to the airport for my flight to Abuja and Sokoto'' Bishop Kukah specified.
He stressed further: ''I am a strong believer in a peaceful and united Nigeria, ideals for which I have striven and served my entire adult life as a thinker and a priest. My instincts for reconciliation and peace were sharpened during my involvement and experience with the Oputa Panel.
''When the Generals refused to respond to the invitation of Oputa Panel, I personally undertook to visit both General Babangida and Buhari (he was not at home) at a time that today's latter day Buharists were asking the Panel to compel them to come or risk being blacked out of national life. Objective-minded people will remember that back in 2001, when the Christian community and many of President Buhari's opponents claimed that General Buhari had said that Muslims should vote only for Muslims, many people in the Christian community were disappointed that I wrote a long article to explain the context of what he had said after speaking with the General. His party, the ANPP later used part of my article for their 2003 campaigns! My faith and experience have taught me to learn to suspend judgment till I have heard both sides of a story, no matter what''.
Bishop Kukah stated that he deliberately made the explanatory note long because he thought it was necessary that people make up their minds based on the facts, given his central role in the event.
The cleric noted that trying to reconcile Obasanjo and Atiku Abubakar was something he had been working on intermittently in the last few years, adding that nothing could have prepared him for the way things finally shaped up.
He reiterated: ''My focus all along had been with President Obasanjo and I had never brought Alhaji Abubakar into what I was doing. Quite fortuitously, a chance meeting changed the tide in favour of reconciliation''.
He added: ''Understandably, the pictures of the four of us (President Obasanjo, Alhaji Abubakar, Shaikh Gumi and I) literally lit up the social media and elicited divergent reactions from the general public. Although over 99% of the reactions that have come to me have been largely those of commendation, with people focusing, rightly, on the reconciliation, there have been others whose focus has been on an isolated development that had absolutely nothing to do with what I had in mind all these years, namely, the endorsement''.
Short URL: https://www.africanexaminer.com/?p=46255