Naira Redesign: Buhari Not In Breach Of Supreme Court Order- Malami
Featured, Latest News, News Across Nigeria
Thursday, February 23rd, 2023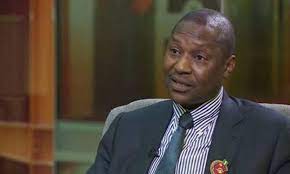 (AFRICAN EXAMINER) – Attorney-General of the Federation and Minister of Justice, Abubakar Malami has said that President Muhammadu Buhari has not acted in breach on the order of the Supreme Court in the case filed by some governors over the naira swap deadline
Malami spoke on Thursday when he featured at the 67th edition of the State House ministerial media briefing organized by the Presidential Communications team at the Presidential Villa.
He noted that as far as the rule of law is concerned, there are many options available.
Three state governors, Nasir El-Rufai (KadunaState and Abdullahi Ganduje (Kano) and Yahaya Bello (Kogi) had approached the Supreme Court to stop the February 10 deadline by the Central Bank of Nigeria, CBN when the old N200,  N500 and N1000 naira notes would cease to be legal tender.
On February 8, the apex court issued an interim order stopping the Federal Government from going ahead to enforce the February 10 deadline.
But speaking on whether the federal government was in breach of the Supreme Court order, Malami said, "the fact, clearly, that we are not in breach of any order made by the court, inclusive of any order associated with the naira redesign. We are not in breach. I believe I'm not a banker, but you have not gone to establish which bank is it that you have gone to present a N1000 or N500 notes that has been rejected.
"So we are not breach, but then, assuming we are in breach, the fact remains that this matter is sub-judice, as you rightly know. It's being contested before the Supreme Court and when an order is made, you have multiple options within the context of the rule of law.
"One, you are entitled as a matter of right, if the facts and evidence support your position, to apply for setting it aside. The position of the law, legal jurisprudence is clear, once you are attacking and you seeking for a setting aside of an existing order of the court, cannot be said to be operating in breach when you presented your application for setting aside.
"If the court is not an apex court, you equally have a right of appeal and support the right of appeal with an application for stay of execution order. So the bottom line of what I'm trying to state, the matter is sub-judice and within the context of the rule of law, we are doing the needful as a government, in terms of ensuring that the right of the government, within the context of the naira redesign, is being protected. So we are not in breach", Malami added
Speaking on the issue that the utterances of some governors on the naira redesign policy could be regardedvas treasonable, Malami said relevant security agencies would have to determine next line of action to take on the matter
Highlighting the importance of the naira redesign policy, Malami said it would enable citizens to assume collective ownership of the electoral system rather than allowing a few moneybags to take charge.
Speaking on the benefits of electoral reforms, Malami said it was only the Buhari-led administration that had exercised the political will to enhance democratic practice through legislative, political and administrative interventions
Short URL: https://www.africanexaminer.com/?p=85532