NEWS ANALYSIS: Disappointment, Hitches, Confusion As 2019 UTME Starts
Articles/Opinion, Featured, Featured Contributors/Columnists, Latest News
Friday, April 12th, 2019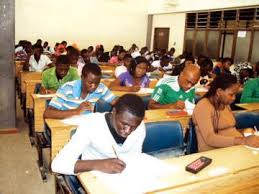 By Tajudeen Balogun and Niyi Adeyi (with Agency Report)
(AFRICAN EXAMINER) – The 2019 Joint Admissions and Matriculation Board (JAMB) Unified Tertiary Matriculation Examination (UTME) took off across the country Thursday, but with many logistics and technical loopholes.
While few candidates complained about challenge of systems malfunctioning in some accredited Computer Based (CBT) centers, many other were faced with the problems of late commencement of exercise, a situation which denied many of the candidates to write the WAEC Animal Husbandry also scheduled for the same day.
AFRICAN EXAMINER Correspondent who visited one of the CBT centers – Bachel Model College, at Ogba, in Ifako/Ijaiye Local Council area of Lagos State Thursday morning reported that the examination did not start as scheduled in the JAMB slip.
One of the candidates who simply identified herself as Aminat told our reporter that her examination was scheduled for 9am, still, her exercise did not start until around past 12noon, making hers and co-set test to end around 3pm, as against 12noon.
Apart from this, some of the candidates, especially girls – who used either Hijab, head turban or scarf complained that they were intimidated and threatened to remove them. Another candidate, who identified herself as Seun told our man that as the officials were threatened, some candidates conceded by removing their head ties.
Seun however said she remained audacious and went ahead to counsel others in her shoes to remain calm. The candidate told AFRICAN EXAMINER that at a point, one of the candidates being threatened began to cry due to the unexpected action of the center's officials.
Seun disclosed further that she continued to calm the girl, until one of the CBT center officials approached her and screamed she should remove her Hijab, but she said she declined.
Eventually, the candidates it was learnt were allowed inside by the officials, but not until some of them have complied to their order.
When AFRICAN EXAMINER asked the reason for the action, there were no valid explanations from none of officials Yet, the only response they could muster was that they were guiding against examination malpractice.
The list of prohibited items to CBT centers by the JAMB include: Wrist Watch, Mobile Phone, Electronic Device, Pen/Biro, Key Holder, ATM Card, Eraser, Bangles, Ring and Necklace.
Apart from this, some candidates who wrote their examination at Bachel Model College Thursday complained that there were minor cases of systems malfunctioning. However, they noted that not to the extent of their examination being disrupted.
Away from this, some candidates whose UTME was scheduled for the first day of the ongoing exercise, but at the same time were also to write WAEC theory and objective (Animal Husbandry) the same day ended up sacrificing the subject for JAMB examination.
AFRICAN EXAMINER had an audience with a parent – Mr. Sikiru Adeniyi Thursday afternoon at Time On Kairos CBT center at old Oko Oba, in Agege Local Council area. According to him, his daughter was scheduled to write her UTME at the center at 9am Thursday.
Adeniyi explained that the parents of affected students had earlier had an understanding (with the management of his daughter's school) that the WAEC paper would slated for afternoon – after which the students might have got through with their UTME.
However, things failed to work out as planned. The first hitch was experienced at the center – Time On Kairos. The examination slated for 9am started around 12noon and the candidates rounded off around past 2pm.
The second shocker for Mr Adeniyi was that when they eventually got to her daughter's school in Agbado area, he and his girl were told that the WAEC paper for the day has been written!
Mr. Adeniyi was speechless on hearing this, most especially that JAMB has promised that issue relating to clash of examination would be resolved.
Recalled that JAMB Head, (Media and Public Relations) Dr. Fabian Benjamin, Tuesday in an interview with the NAN in Lagos gave the assurance that no candidates would be denied the opportunity of sitting for the examination.
The assurance followed concern being expressed on a clash in the timetable of West African Senior School Certificate Examination (WASSCE) and UTME.
According to the timetable, some WAEC students who are expected to write Animal Husbandry on Thursday April 11 by 9:00 a.m. are also expected to sit for the UTME on the same day.
The affected students are those expected to write Animal Husbandry in the 2019 May/June of WASSCE which began Monday, April 8, across the country.
"We (JAMB) have met with the WAEC management and WAEC has just given us an assurance that there is no clash; that people don't just understand the modus operandi of the timetable especially as it affects the practicals.
"The WAEC Practicals are in sections. There is no clash at all and that allegation of a clash in timetable is unfounded and baseless.
"WAEC has given us an assurance that it has accommodated all the fears of candidates. That the practical subjects are scheduled in sections in such a way that there would not be any clash at all.
"We want Nigerians to know that WAEC has actually accommodated the fears of candidates'' Dr. Benjamin reportedly said.
In another development, AFRICAN EXAMINER correspondent was called Thursday night and received complaint sent by a parent, claiming that his son was still at a CBT -Dalewares Center, Ilupeju, Lagos State at 8pm, writing UTME. The parent reportedly said his son examination was slated for afternoon.
Similarly, reports have it that JAMB has rescheduled UTME in a Local Government in FCT Abuja, due to ''technical hitches''.
In some centers, candidates allegedly could not do biometric verification. JAMB Spokesman has however promised that the body would look into the reported cases and come up with a position.
Dr. Benjamin also disclosed that the results are yet to be released so as to avoid multiple cancellations.
AFRICAN EXAMINER last week Tuesday published an Exclusive story on the JAMB CBT centers with poor standard.
https://www.africanexaminer.com/exclusive-the-shocking-tale-of-poor-jamb-cbt-centers/
As reported in the story, due to de-listing of 14 out of 712 accredited Computer Based Test (CBT) centers, the posting of candidates' examination schedule slip was initially scheduled to start Tuesday, the body carried out the exercise last Thursday, April 4, 2019.
Specifically, AFRICAN EXAMINER reported Times On Kairos center as one of the sub-standard centers.
Despite the publication and call on JAMB authority to do its independent finding, nothing in this regard has happened. Shockingly, the examination body has gone ahead and posted candidates to the same center for the exercise which takes off Thursday, April 11
Coincidentally, a candidate who resides in Abule Egba and was reported in the story –to have written her 2017 UTME there has again been posted to sit for 2019 UTME in the same center. The candidate's experience then was nasty.
However, one of the candidates, who wrote her examination at the center yesterday, Sofiyah Aroyewun painted a gleeful picture, compare to horrible state of things last week. She told AFRICAN EXAMINER after the exercise that apart from the time-taking biometric verification process, her examination went on smoothly. She explained that her test was slated for 1.30pm, but due to pre-exam protocols, she and her set started around past 3pm and ended about 5.30pm.
At least 1.8 million candidates are expected to write this year's UTME. The ongoing exercise is to last between April 11 and Tuesday, April 16.
The prevailing lapses being experienced at the JAMB centers across the country are simple justification for the body to heed to the surge of calls that, 'the journey is still very far'; that much is still expected to be done, with a view to weed out the bad eggs among its stakeholders; improve the system and ultimately, reduce to the nearest minimum, the level of hitches and hassles the candidates face while writing their examinations.
Short URL: https://www.africanexaminer.com/?p=48016