News of the World Editor Convicted, Colleague Brooks Acquitted On Phone Hacking
Latest News, News, Trending Stories, World News
Tuesday, June 24th, 2014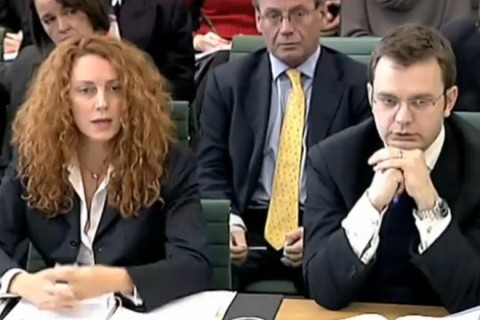 Former News of the World editor, Andy Coulson on Tuesday was convicted over phone hacking but fellow editor Rebekah Brooks was acquitted, after a month-long trial revolving around illegal activity at the heart of Rupert Murdoch's newspaper empire.A jury at London's Old Bailey unanimously found Coulson, the former spin doctor of British Prime Minister David Cameron, guilty of conspiring to intercept communications by eavesdropping on mobile phone voicemails. Brooks was acquitted of the same charge and of counts of conspiring to bribe officials and obstruct police.

The nearly eight-month trial – one of the longest and most expensive in British legal history – was triggered by revelations that for years, the News of the World used illegal eavesdropping to get stories, listening in on the voicemails of celebrities, politicians and even crime victims.

The scandal led Murdoch to shut down the 168-year-old tabloid and spurred criminal investigations in which dozens of journalists and officials have been arrested.

The jury also found former managing editor of the title, Stuart Kuttner not guilty of phone hacking.

Three other defendants including Brooks' husband Charles, her former secretary Cheryl Carter and News International security chief, Mark Hanna were acquitted of perverting the course of justice by attempting to hide evidence from police.

Coulson showed no emotion as he was declared guilty. He faces a maximum sentence of two years in jail on the hacking conviction.

Brooks mouthed "thank you" after she was cleared of all charges, and exchanged a glance with Carter, standing next to her in the dock. After the verdicts, she and her husband left court without speaking to reporters.

The jury, which has been deliberating for eight days, is still considering two further charges of paying officials for royal phone directories against Coulson and former newspaper's royal editor, Clive Goodman.

Brooks and Coulson, both 46, were accused of conspiring, along with Kuttner, to hack phones between 2000 and 2006. She edited the News of the World from 2000 to 2003 with Coulson as her deputy. Coulson then took over as editor, before becoming Cameron's communications chief.

The defendants denied guilt. Still, prosecutors argued that senior editors must have known that hacking was taking place at the News of the World – but only Coulson was convicted by the jury.

The verdict puts pressure on Coulson employer, Cameron, who after two News of the World employees were convicted of phone hacking in 2007.
Short URL: https://www.africanexaminer.com/?p=13367