Ogonis Declare Support For Buhari
Featured, Latest News
Thursday, January 8th, 2015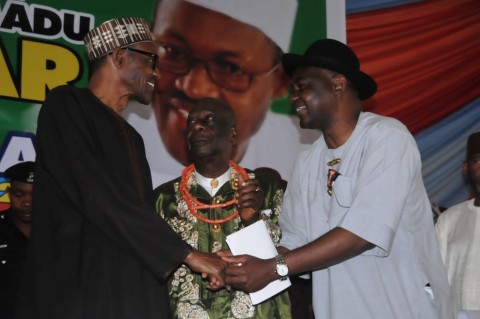 The four local government areas of Ogoni ethnic nationality in Rivers State comprising Eleme, Tai, Gokana and Khana have unanimously pledge their support to the All Progressives Congress (APC) presidential candidate, General Muhammadu Buhari in the forthcoming presidential election.
The Ogonis made their resolution on Thursday at a brief ceremony to welcome General Muhammadu Buhari and other top ranking party officials to Sakpenwa, headquarters of Tai Local Government Area of the state.
Speaking at the occasion, Chairman, Rivers State Council of Traditional Rulers, His Majesty King G. N. Gininwa thanked General Muhammadu Buhari for accepting to visit Ogoni land.
He said, "I want to welcome you with your entourage. We want to thank Governor Amaechi for talking to you to accept to visit Ogoniland. Ogonis have cried a lot, we want a redeemer and we believe you are the one", he said.
Also, in an address read by the Senator representing Rivers South East Senatorial District, Magnus Ngei Abe, on behalf of the Ogoni people the people expressed the support for Buhari.
"Your Excellency, as a former federal commissioner for petroleum Resources, you are aware of the impact of oil exploration and exploitation that has caused colossal degradation of our environment. And you also know that Ogoniland has been a major contributor in oil production since 1958, yet as the proverbial goose that lays the golden egg, we have been rewarded with devastated environment and our traditional occupation of fishing and farming are continuously going extinct".
"Three and half years after the federal government sponsored UNEP report on Ogoni soil, no remedial effort have been made to address the damage outlined in the report despite the promise of the late President Yar'adua's government to implement the content unconditionally".
"As Ogonis we are pained that three years after the government got a report that water in Ogoniland is contaminated with benzene, a known carcinogen, at levels of 900 times above the World Health Organization (WHO) guideline".
"As a deprived people, we have consistently placed in the domains of all government, the Ogoni Bill of Rights (OBR) that seeks for equal representation of Ogonis in the affairs of the nation".
"Your Excellency, like Abraham Lincoln, your own era to serve and change this nation in line with the aspiration of our founding fathers has come, and we have decided to be part of history. As Ogonis, we know you have demonstrated an unimpeachable pedigree, high level of discipline, incorruptible and development-oriented leadership qualities as evident in your days in office as Head of States".
"Nigeria was for the first time, railroaded on the part of discipline and national integrity. Corruption took a back seat in national affairs and people learnt to submit to the processes of discipline which your administration enacted".
"Finally, because you consider Ogoniland as a priority in the kick-off in your national campaign tour, Ogonis shall reciprocate this golden gesture and massively pool our votes to ensure you are the President and Commander-in-Chief, come May 2015".
On his part, Rivers State Governor and Chairman of Nigerian Governors Forum, Rt. Hon. Chibuike Rotimi Amaechi who also doubles as the Director-General of Muhammadu Buhari Campaign Organisation, called on the Ogonis not to be intimidated by the use of military by the ruling party (PDP) during the elections.
Amaechi also urged the people to vote for the All Progressives Congress (APC) at all levels during the general elections.
According to him "If you vote for PDP Ogoni Kingdom will die… you don't have a strong governor coming on the side of PDP. Who is a strong character?… Those characters we have on the other side are thieves….Ask them…Nyesom Wike was my Chief of Staff, I have been speaker for eight years…show me the house that I have…speaker eight years, governor eight years…"
Also speaking on the environmental degradation of Ogoniland, Governor Amaechi said, "when UNEP came here, when they came to Nigeria to do a study of environmental crisis in Ogoniland, you people didn't want them. True or false? You didn't want them… forget now that the report is favourable. I addressed rallies in Ogoni to allow them to come in… and I said if you don't trust Shell, if you don't trust the Federal Government, don't you trust me? And you said you trust me.
"As your governor I was running into the bush with Mike, we were chasing people, we were chasing criminals, there were attempts to kidnap (Mike) and other white people, but we maintained our desire to find solution to Ogoni crisis. And when they came up with the report, I met with the President of the Federal Republic of Nigeria as governor of Rivers State. And I said to the President you see this report, please implement it for the Ogoni people, in fact….If nothing else the One billion Dollars that they will invest in Ogoni soil if you don't get anything you will get Five hundred million Dollars, it may not come to you as cash but as they continue to do one business or the other you also will do your own business, and you will benefit from it. Let the President tell us why he has refused to allow UNEP report to be implemented. There is no reason; because the money is not his, I hope you know"?
The money is Shell's. Just like Shell said they will pay 18 million dollars to Bodo. If the Federal Government say they won't sign they won't pay them.
"In this one all it takes is for President Goodluck Jonathan to sign them go ahead and implement. Gentlemen we would have started implementing by now. When the President was not implementing I called Shell, and I said of great importance to me as your governor is your life, that is the life of Ogoni people, Can we give them water? And Shell agreed. We started from Eleme, Gokana had water provided by the Rivers State Government", he said.
Also speaking at the event, the party's National Chairman, Chief John Odigwe Oyegun described Gen. Muhammadu Buhari as a man who represents the very best in human race and assured the Ogonis of better governance from may this year.
"The Ogoni people have put environmental issue long before now, the Ogonis have been betrayed by the federal government but thank God you have finally recognized the powers in your hands. The fortunate thing is that for the first time you are going to be talking to a man (Buhari) who represents the very best in the human race, a man who is totally incorruptible and a man whose middle name is discipline", he said.
In his response, the Presidential candidate of the All Progressives Congress (APC) Gen. Muhammadu Buhari assured the Ogonis of his determination to fight corruption to a standstill if he wins the presidential election.
He said: "I am extremely impressed with the address presented by Senator Abe, I assure you social justice, so mobilize your people and make sure your votes counts. I think we have really come a long way. I assure you… a lot has been taken from your land and relatively a lot will be given back, APC government will change the situation", he said.
Short URL: https://www.africanexaminer.com/?p=21408