Ojudu Reveals How Tinubu Held Secret Meeting With Sunday Igboho In 2009
African News, Featured, Latest News, News, News Across Nigeria, News From The State
Monday, January 25th, 2021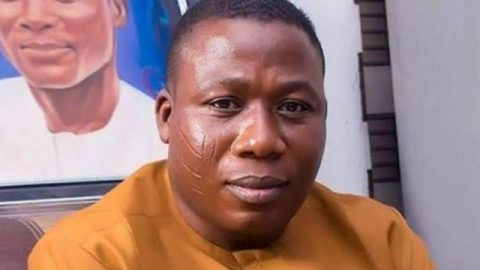 (AFRICAN EXAMINER) – Special adviser to President Muhammadu Buhari on political matters, Babafemi Ojudu, has revealed how national leader of the All Progressives Congress (APC), Bola Tinubu, held a secret meeting with Sunday Igboho in 2009.
African Examiner recalls that Igboho, whose real name is Sunday Adeyemo, has been in the news recently over the eviction notice he served to herders in Ibarapa local government area of Oyo state.
On Monday, Ojudu disclosed that with his support, Tinubu enjoined Igboho not to interfere with the 2009 rerun election in Ekiti state.
During the 2007 gubernatorial election, Segun Oni of the Peoples Democratic Party (PDP) had won after he defeated Kayode Fayemi of the Action Congress of Nigeria (ACN).
Fayemi, not happy with the result, enlisted the support of Tinubu and challenged the outcome of the election in court.
The appeal court sitting in Ilorin in February 2009, had ordered that a rerun be held in some polling units where elections were held in 2007.
According to Ojudu, Tinubu summoned him after the ACN knew that the PDP was planning to recruit thugs to rig the election and Ojudu stated that he suggested that they should call the PDP thugs and dissuade them from disrupting the election.
"We reached out to both Ade Basket in Akure and Fada Geri in Ondo. Both were dreaded in political circles. We had a series of meetings with them and were able to squeeze an agreement with them that they will not make themselves available to PDP for hire. I got them to even sign documents for me that they were going to stay off Ekiti elections," he wrote.
"The biggest headache for us then was Sunday Igboho who we learnt has been hired and paid by a Senator from Osun to come and cause mayhem in Ekiti. Tinubu instructed we must get him at all cost."
Ojudu stated that they were able to convince Igboho to stop any plans of interfering with the election following a meeting with Tinubu in Ondo state.
"A week before the election, we had reserved and paid for all the rooms in all the hotels in Ekiti. The money ran into several millions. Tinubu, as usual, paid for this. The strategy was to ensure no thug or any undesirable element had a place to stay in the state. Security men and INEC officials had to appeal to me, sometimes through Tinubu, to release some rooms to them to stay. With this we knew who was staying where. And we closely monitored them and their activities," he wrote.
"Thus, when Igboho and his band of 50 thugs arrived in Ado Ekiti that Friday we were able to monitor them till they were taken to be accommodated overnight in a government house due to lack of hotel accommodation in the state.
"This was the situation when at 2:00 am I did exactly what Igboho instructed me to do and he and his men fled town. Two hours after leaving I got a call from him. They did a headcount and found out two of their men were missing. Interestingly, they found out the two had gone to town in search of women. Igboho pleaded with me to help retrieve them and get them out of town the following morning.
"This was my encounter with Sunday Adeyemo alias Sunday Igboho, lately crowned a hero in Yoruba land , by the reign of terror by herders and bandits.
According to Ojudu, Igboho "has that occasional conscience you can appeal to".
He also enjoined those who can intervene in the herders crisis to do so, saying that every possible thing should be done "to stave off this crisis and stop beating the drums of war before it reaches a crescendo".
Short URL: https://www.africanexaminer.com/?p=59199