Osinbajo Advocates for Investment on Innovation, Youth Development in Niger Delta
Featured, Latest News, News
Friday, March 3rd, 2017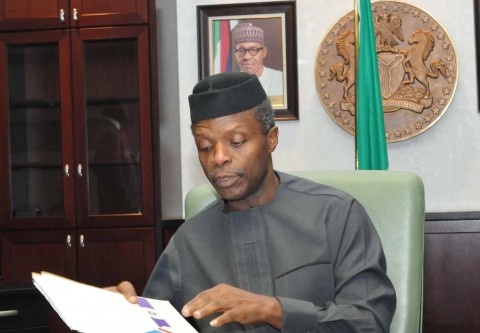 UYO, NIGERIA (AFRICAN EXAMINER) – The Acting President Prof. Yemi Osinbajo has advocated for huge investment geared towards steering innovation and motivating young entrepreneurship in Nigeria.
Osinbajo made the call Thursday night in Uyo the Akwa Ibom State capital, during a town hall meeting in continuation of his dialogue with the stakeholders in the Niger Delta region.
The economic fortune and long term success of a nation, the acting President said rested on invention, innovation and expanding the scope of the present opportunities.
To this end, he called on Akwa Ibom State to exploit the benefits in the available local human resources, which he described as the greatest asset, so as to expand the scope of the social-economic and cultural development in the State.
Prof Osinbajo who reiterated that the town hall meeting was at the instance of President Muhammadu Buhari with a view to finding lasting solution to the Niger Delta militancy, cautioned on the total reliance on crude oil by the Niger Delta region stressing that the region must think and act fast before now the complete turn of events within the country's and the global oil market overruns the values of crude oil which the Delta Delta region presently prides itself over.
He challenged the Niger Delta States when cited the ongoing big investment in Lagos, which he stated was the modular refinery still under construction. He indicated that the refinery alone when completed could produce what the entire refineries in the country produce.
He also challenged tactically, by citing that US used to be the Nigerian largest crude oil consumer, noting that the country is now patronized by the Asian nations.
Prof. Osinbajo tasked the Niger Delta region leaders to think beyond the crude oil, and invest on the available human and other natural resources that would prompt advancement, radical but developmental initiatives.
He pleaded for patience from the Niger Delta region with the present administration which he noted was less than two years in power, after 16 years of the former ruling party. He reasoned that 24 months were not practically enough for a government to correct the mistakes made within over a decade by the former administration.
The town hall meeting was graced by the incumbent State Governor Udom Emmanuel; his predecessor and the Senate Minority Leader; Godswill Akpabio; Cross Rivers State Governor, Benedict Ayide; Minister of Budget and National Planning, Senator Udo Udo Udoma; his Niger Delta Affairs counterpart, Pastor Usani Uguru; the Amayanabo of Brass, Bayelsa State, Chief Diette Spiff, Federal Lawmakers, the State Government officials; women and youth leaders  among others.
Short URL: https://www.africanexaminer.com/?p=38233