Osun Legislators Endorse Governor Aregbesola for Second Term
News
Wednesday, October 2nd, 2013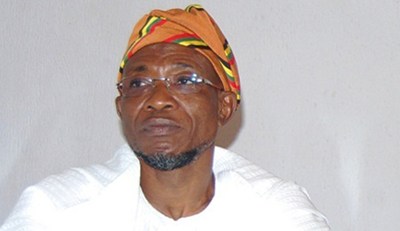 Ruth Bamidele,
Senator Sola Adeyeye, representing Osun Central Senatorial District, has described Governor Aregbesola's innovative administration as the reincarnation of the progressives in the South-West.
Senator Adeyeye stated this at a rally put together by legislators in the state under the umbrella of State of Osun Forum of Legislators.
The forum, which comprises three senators, nine House of Representatives and 26 House of Assembly members, came to endorse the governor of the state, Rauf Aregbesola, for second term on the platform of the All Progressives Congress (APC).
The forum said Aregbesola's great performance in the past three years in office is visible to all citizens of the state.
It said Osun State is lucky to have a visionary leader like Aregbesola, who is preoccupied with the welfare and well-being of the general populace.
The Forum, in a unanimous decision, endorsed the second term bid of the governor after a motion was moved by Ayo Omidiran (Ayedaade, Irewole and Isokan Constituency) and seconded by Timothy Owoeye from Ilesha East Constituency.
According to the Forum: "We endorsed Governor Aregbesola for second term because of his administration's laudable programmes and prompt delivery of dividends of democracy.
"We endorsed him for his vision and mission to develop the state. His achievements are visible to everybody in the state.
"His programmes are people-centred. Opon Imo is a unique e-learning tool all over the world. Osun is lucky to have Aregbesola as governor. This is why we endorsed him to continue his good work in office."
Governor Aregbesola responded that the forum's endorsement is first of its kind in Nigeria, where the entire elective officers of a state except the governor and his deputy would endorse the candidacy of a governor to continue on the banner of their political party.
Short URL: https://www.africanexaminer.com/?p=2050