Peterside Vows To Continue Ameachi's Legacy, To Launch Campaign Manifesto Soon
Featured, Latest News, Nigeria 2015 Election
Friday, December 5th, 2014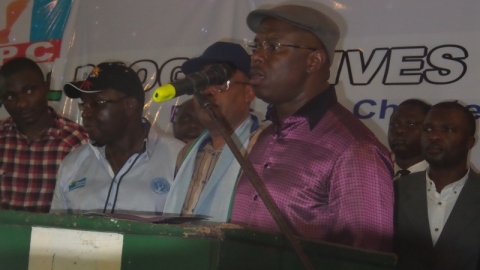 Ignatius Okpara, Port Harcourt – The governorship candidate of All Progressives Congress (APC) Dr. Dakuku Peterside has said that, if elected in 2015, he would carry on with the solid foundation that Governor Amaechi has laid down in the last seven years of his administration.
In his acceptance after he was elected as Rivers APC governorship flag bearer, Dr Peterside stated that in the days ahead he would release his campaign manifesto to be titled "Roadmap to Posterity."
His words:
"Today by your votes and the considered decision of our leaders and elders you have entrusted upon my shoulders the mandate to carry further our shared vision of greater Rivers State based on the vision and foundation our leader Governor Amaechi has laid in the past seven years.
"My desire to be Governor of our dear State is a product of deep commitment to serve and a passion to expand economic opportunities for all our people.
"My aspiration is not about the pomp, pecks and privileges of office, but out of a desire to make Rivers State greater.
"I have had the privilege of political tutelage under our leader and I have seen his passion for excellence and a new and better Rivers State.
"I have been challenged by this passion and believe that a greater Rivers State is possible if we all join hands.
"Together I believe we can provide leadership that will accelerate the actualisation of a greater Rivers dream of improved middle class, first class safe environment, equal and more socio-economic opportunities and create a greater sense of community, a Rivers State that will be the pride of Africa.
"I wish to say in the days ahead I will present to the world our 'Roadmap to Prosperity' which will be our covenant with Rivers people.
"In doing this I want to say it loud and clear that I believe in a united Rivers State and will continue to work for that.
"In my charter of service, we are going to create opportunities for all. We have got to grow this economy. People will have incentives to make long-term investment in Rivers and reap rewards.
"We will encourage productivity and discourage rent seeking. We will continue to build on the legacies we have inherited by investing more money in qualitative education and emerging technologies to help keep high-paying jobs here in Rivers State.
"Security will continue to be our topmost priority. Fortunately, for us our leader, Governor Amaechi has laid an undeniable and irreversible foundation for accelerated growth.
"Our covenant with God therefore is to serve and to be a blessing to Rivers people unto his glory."
Short URL: https://www.africanexaminer.com/?p=20297