Plateau 2015: Chetto Declares for Governorship Race, Supports Zoning in the State
Latest News, News, News From The State, Politics
Tuesday, September 2nd, 2014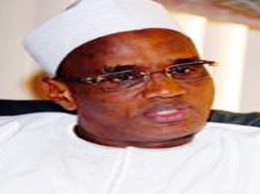 The battle for the Governorship of Plateau State is already heating up with several aspirants springing up especially from the ruling PDP, with the latest being, Engineer Jimmy Zingtim Chetto.
Chettto a Former Director of Federal Capital Development Authority (FCDA), has thrown his hat into the gubernatorial race.
In his declaration in Jos, Cheto promised that to bring transparency and accountability of governance to Plateau polity, adding that he  would enhance the general wellbeing of citizens in the State.
He said that he would boost the economy of the state by bringing in as many foreign investors as possible, if elected.
The former FCDA director maintained that he joined the race under the platform of PDP to bring new
policy on agriculture, education and in the industrial sector.
However, 10 aspirants have so far declared to contest under the platform of the PDP.
Speaking on the high number of aspirants in the PDP, Cheto said, "I'm not surprised at this development, because the PDP is a good and well organised party; hence it attracts a lot of politicians.
The aspirant added that, "In democratic pursuit, violence, indignity, disrespect for constituted authorities are ruled out because these unholy virtues renege and deny democratic growth in the society.
"My journey to the Plateau Government House is designed to take a responsible shape.
He assured that every citizen, young and old, male and female would be accorded the desired respect and dignity in the process of this journey.
"I'm in the race for the second time on the basis of the desire of the people, and as such violence should not be expected in my programmes.
Speaking about the purported zoning arrangement in the State; Chetto said, he is in support of the agreement and argued that it was enshrined within the PDP constitution.
He warned that anyone who attempts to jettison the zoning agreement would be undertaking an undemocratic principle.
Short URL: https://www.africanexaminer.com/?p=16952