Police Special Forces Kill Notorious Kidnap, Armed Robbery Suspect, ''Vampire'' in Rivers
Featured, Latest News, News Across Nigeria
Thursday, March 2nd, 2017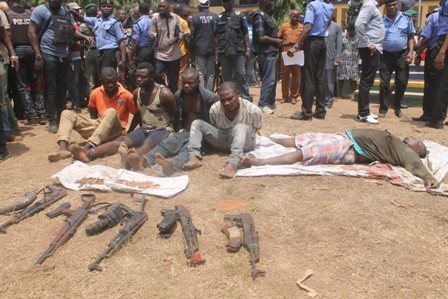 BALTIMORE, MD (AFRICAN EXAMINER) – The Nigeria Police has killed a notorious kidnapping /armed robbery suspect in the south east and south south zones, Henry Chibueze aka 'Vampire' as well as paraded his gang members.
Vampire killing was prompted by deployment of Special Forces led by Intelligence Response Team to south east and south south States, under the supervision of the Commissioner of Police, Imo State Police Command which swooped on the hideout of 'Vampire' Thursday.
The Special Forces which is on the order of IGP Ibrahim Idris engaged the gang in fierce gun battle that lasted several hours in the early hours of 02/03/2017 at Omu Awa forest Ikwerre L.G.A. of Rivers State.
''This operation was successfully carried out as the dreaded, vicious and kidnap for ransom and armed robbery kingpin, Henry Chibueze aka 'Vampire' and his gang who were rescued by his criminal cohorts from the Owerri High Court premises on 27/01/2017 from the custody of Officers of the Nigeria Prisons Service died during the shootout with the Police Special Forces and all the other suspects mentioned above were arrested and the exhibits listed recovered from them.
''Henry Chibueze aka 'Vampire' (deceased) was a cultist who later turned a vicious and dangerous kidnapper/armed robber, and was declared wanted since 2013. He was responsible for several cases of kidnappings, armed robberies, murder of notable and prominent personalities in Imo State and South Eastern/7South South States.
''He had earlier confessed to the murder of his girlfriend Sandra and eight (8) members of her family, among them six (6) children in Lagos State. He alleged that the girlfriend stole his 45 million naira share of 110million naira ransom paid by the family of one of his victims in Omoku, Rivers State.
''He is a serial killer who also confessed to have killed over Two Hundred (200) people in various kidnappings and armed robbery attacks. He claimed responsibility for the murder of the following persons;
(i) Placid Ejimadu (Nze Ji Obi)
(ii) Jonathan Ibemere aka gwuogwuo and
(iv) Livinus Iwumune all natives of Agbaja Nwangele L.G.A. Imo State.
(v) The killing of an Honourable member of the Imo State House of Assembly at Orji in 2015
(vi) The kidnap/murder of a traditional rulers' wife from Mbaise in 2015 whose corpse has not been seen till date.
(vii) The kidnap/murder of a man from Malaysia at First Bank World Bank Branch Owerri.
(viii) The killing of 3 members of a family including a woman from Nkwerre in 2012 after collecting ransom from the family, narrated CSP Moshood Jimoh, the Force Public Relations Officer.
Police added that the living members of 'Vampire' have made useful statements, confessing and admitting to have carried out four (4) successful kidnap operations after the rescue of their gang leader at the Owerri High Court premises.
Jimoh however informed that the suspects would be charged to court on completion of investigation.
Members of the arrested included:
OBINNA ELAH 'M' 26YRS, NATIVE OF ORLU L.G.A. IMO STATE; 2ND IN COMMAND OF THE KIDNAP GANG
ARINZE ABECHETA 'M' 24YRS, NATIVE OF OKOHIA, ISIALA MBANO L.G.A. IMO STATE.
CHUKWUEBUKA IKEAZOTA 'M' 23YRS, NATIVE OF OHOHIA, ISIALA MBANO L.G.A. IMO STATE.
SAMUEL UGOCHUKWU 'M' 24YRS, NATIVE OF AROCHUKWU L.G.A ABIA STATE
CLIFFORD AHEANA 'M' OF OMU AWA IKWERRE L.G.A. RIVERS STATE.
EXHIBITS.
Items recovered from them were:
(i) Five (5) AK 47 rifles
(ii) Three Hundred Rounds of AK 47 ammunition.
(iii) Charm recovered from the body of the deceased leader of the gang
Meanwhile, IGP Idris has assured residents of Imo State and Nigerians in general of adequate security and implore them to co-operate with the police personnel deployed in their localities.
Short URL: https://www.africanexaminer.com/?p=38214