Pro-democracy Group Tasks INEC on Transparency in Anambra Polls
Featured, Latest News, News, Politics
Thursday, November 16th, 2017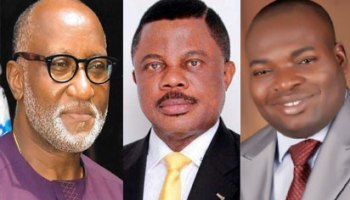 Photo: (L-R) – Obaze, PDP; Obiano, APGA; Tony Nwoye, APC
…Condemns Okorocha on "Magic hand" victory for APC
(AFRICAN EXAMINER) – A pro-democracy and Non-governmental organization – HUMAN RIGHTS WRITERS ASSOCIATION OF NIGERIA (HURIWA) has asked the Independent National Electoral Commission of Nigeria (INEC) to be above board and totally non-partisan during the November 18th Anambra State governorship poll.
The group equally expressed strong condemnation of the careless statement reportedly made by the controversial governor of Imo State Mr. Rochas Okorocha during President Buhari campaign event for the APC governorship candidate Mr. Tony Nwoye in which Okorocha was reported as asking President Buhari to use his "magic hand" to make Tony Nwoye Anambra governor.
HURIWA warned the electoral commission to conduct a free, fair, peaceful, transparent and decisive election and allow the electorate in Anambra State to determine who emerges as the winner of the democratic process on November 18th.
Conversely, the Rights group cautioned INEC and especially the controversial National Commissioner and niece of President Muhammadu Buhari Hajia Amina Zakari to perish any likely contemplation of using her powerful position to achieve the manipulation of the process as a way of actualization of the prayer of governor Rochas Okorocha to Buhari on the use of 'magic hand' to confer electoral advantage on the candidate of the All Progressives Congress so as to avoid precipitating chaos and electoral violence.
"The current leadership of the Independent National Electoral Commission has always pandered to the whims and caprices of the presidential cabal and did not behave in a professional manner during the last two governorship polls in Ondo and Edo which the electoral panel displayed high level of partisanship and manipulations and awarded controversial electoral victories to the ruling national party".
"The Anambra State election on Saturday will be a different kettle of fish because of the high caliber of candidates vying for the only slot of governor of Anambra State which is a very strategic state in the whole of South East of Nigeria which also has the greatest concentration of highly erudite scholars and wealthy industrialists".
HURIWA cited legal authorities from the Nigerian Institute of Advanced Legal Studies and charged INEC to respect the constitutional rights of Anambra state electorate and carry out a transparent election because: "Human Rights are rights of men which should be legally recognized and protected to secure for each individual the fullest and freest development of personality and spiritual, moral, unobstructed, independent life. They are conceived as rights inherent in individuals as natural free willing creatures. However, some of these rights are so fundamental to man that they are reduced into writing, guaranteed and entrenched under the state's Constitution as fundamental rights".
HURIWA further quoted the constitutional authorities by stating thus: "The Basic tenets of Human Rights include, the Right to life, Right to dignity of human person, Right to personal liberty, Right to fair hearing, Right to private and family life, Right to freedom of thought, conscience and religion, Right to freedom of expression and the press, Right to peaceful assembly and association, Right to freedom of movement, Right to freedom from discrimination, Right to acquire and own immovable property".
Short URL: https://www.africanexaminer.com/?p=41558