Rejection of Accident Victims: Red Cross Advocates Designation of Special Hospitals
Featured, Latest News, News
Monday, March 14th, 2016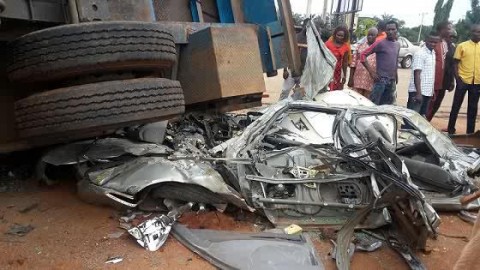 By IGNATIUS OKPARA, Enugu
Disturbed by the continued rejection of accident victims by Nigerian hospitals, on the basis of "no police report, no treatment" policy, which has resulted to loss of scores of lives across the nation, the Nigerian Red Cross Society (NRCS), weekend called of the federal government to as a matter of urgency, designate special hospitals for the handling of such emergency cases.
It opined that as Nigeria's disaster coordinating body,  the National Emergency Management Agency,NEMA  should facilitate the designation of such medical facilities especially along major high ways.
Vice chairman, Anambra state chapter of NRCS, professor Peter Kachi, advocated this, during a meeting of south- east disaster management stakeholders convened by the south east zonal coordinator of NEMA, Mr. Martin Ejike Udeinya in Enugu.
Professor Kachi, regretted that dozens of innocent Nigerian auto crash victims, Including those of south- East extraction, have over the years entered their untimely graves due to the refusal of both government and private hospitals to attend to them because of the said unfriendly policy.
Addressing the disaster stakeholders, the south east NEMA boss, explained that  the 2016 strategic planning meeting was aimed at bringing together all the key relevant agencies, so as to draw a road map on the way forward for the year.
While emphasising the need on synergy and collaboration between NEMA and other stakeholders in the disaster management business in the zone, Udeinya,identified lack of capacity building among the stakeholders as a major issue.
He however, stated that his office will liaise with the agency's headquarters in Abuja, to workout possible modalities on how to build the capacity of the relevant stakeholders within its areas of jurisdiction in the zone.
According to him, the present NEMA leadership under Alhaji Mohammad Sani Sidi,takes issue of capacity building, training and re-training very seriously.
Udeinya, added that as disaster handlers at various levels, stakeholders must be abreast with the 21st century international best practices, which is mitigation based.
All stakeholders at the meeting, which included men of the Federal Road Safety Corpse, FRSC, Nigeria Security and Civil Defence Corpse, NSCDC, Fire service, state Emergency Management Agencies, SEMA, Red Cross Society, among others, had complained about lack of operational vehicles at their respective states.
Short URL: https://www.africanexaminer.com/?p=30902