EXCLUSIVE REPORT: How N500 Million Luxury Shuttles Rust Away At National Assembly
Exclusive Reports, Featured, Latest News
Friday, October 16th, 2015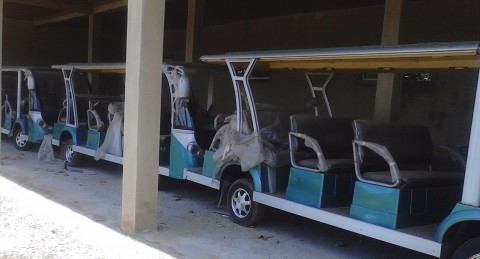 Ayodele Afolabi, Abuja
The AFRICAN EXAMINER can authoritatively reveal that over N500 million luxury shuttle tricycles bought with tax payers money are now rusting away at the National Assembly (NASS).
Some of the tricycles were packed carelessly near a petrol station outside NASS Annex.
A very disturbed management staff took our reporter to the site where the customized shuttle bus were kept, pointing out that they were bought in 2007.
He said that the original purpose of purchasing them was to transport the lawmakers from their offices to the white house, where the chambers of both Houses were located.
"When the idea was conceived, the legislators including the principal officers were supposed to make use of the shuttle bus instead of their private cars.
"Unfortunately, they have never been put to use since then. They have left it here to gather dust.
When asked if they are still in good condition, our source said that he could not ascertain since they have not been put to any use.
Efforts by our reporter to get reaction from the accounting officers or the clerk of the National Assembly were not successful as nobody was willing to comment on it.
Short URL: https://www.africanexaminer.com/?p=26459