Rivers Rerun: Acting NDDC Boss, Semenitari Narrates Altercation In Mile 1 Police Station
Featured, Latest News, News
Monday, March 21st, 2016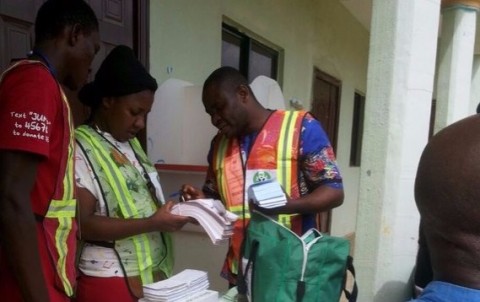 By Ignatius Okpara, Port Harcourt
Acting Managing Director of Niger Delta Development Commission (NDDC) and a chieftain of the All progressive Congress (APC) in Rivers state, Mrs. Ibim Semenitari, has given her own account of what transpired at the Mile 1 Police Divisional Headquarters in Port Harcourt on Sunday March 20.
Contrary to the impression created by the media aides to Rivers state Governor Nyesom Wike, that the ex- information Commissioner in the State masterminded violence that erupted at the station, Semenitari accused Wike of invading the police station, "held the Independent National Electoral Commission (INEC), Collation Officer for Port Harcourt Ward 10, Mrs. Ekwi Adebisa, hostage."
The NDCC boss, narrated her own side of the story through
In a statement by her media aide, Bekee Anyalewechi, Semenitari alleged "Governor Wike had arrived the police station accompanied by Sen. George Sekibo, Mr. Austin Opara, Azubuike Nmerukini", as well as other aides.
The statement continued: "We have received with bemusement the attempt by the Rivers State Government and its image managers to retell the facts of the incident of Sunday, March 20 which occurred at the Mile 1 Police Divisional headquarters in Port Harcourt when Rivers State Governor, Ezebuwon Wike, in company with a retinue of aides, invaded the police station, held the Independent National Electoral Commission, INEC, Collation Officer for Port Harcourt Ward 10, Mrs. Ekwi Adebisa, hostage.
"Whereas it is not in our style to join issues with any tier of government, it is imperative that we state the facts because of the need to safeguard our electoral process and strengthen the confidence of our people in their leaders.
"Mrs Ekwi Adebisa, the Port Harcourt City Ward 10 Collation Officer, for the March 19 rerun legislative election in Rivers State, was moved by force to the police station.
"The result she had collated was separated from her, while at the police station, agents of the Rivers State Government, brought her under duress to write a statement that she had been abducted and made to falsify the Ward result by agents of All Progressives Congress, APC.
"That they forced her to the police station and kept under traumatic condition was in itself, criminal.
"But that they had forced the result she had lawfully collated out of her custody was more criminal.
"As a leader in APC, Mrs. Ibim Semenitari, Acting Managing Director, Niger Delta Development Commission, NDDC, being in attendance at the meeting, was among those delegated to go and see what the actual development was.
"When Semenitari and others arrived the police facility, they confirmed the report.
"In conclusion, we state therefore, that it was shocking to read a statement issued by Mr. Simeon Nwakudu, Special Assistant to the Rivers State Governor on Electronic Media, linking Semenitari to facts contrary to the truth as stated here.
"As a responsible citizen and public officer, Semenitari could not have engaged in any conduct unbecoming of her status.
"As a Nigerian and Rivers daughter, she would always and at all times, protect and defend what promotes good governance.
"May God keep us all safe in these curious times that try our people's souls.
The State's legislative rerun polls were conducted last Saturday amid violence, leading to INEC suspending elections in eight Councils areas of the oil rich state, presently being governed by the PDP.
Short URL: https://www.africanexaminer.com/?p=31122