RVP's Classic Goal Help Netherlands Tear Spain Apart
Featured, Latest News, Sports
Friday, June 13th, 2014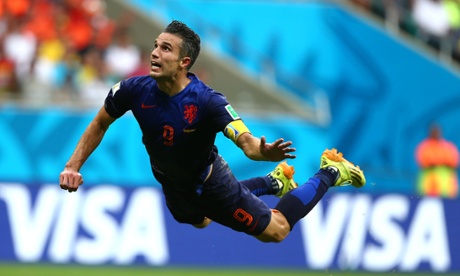 Robin van Persie provided the first goal of the tournament contender for the 2014 World Cup with his beautiful header to equalize against Spain just before halftime as the Netherland came from behind to beat Spain 5-1.
But before their world came crashing down around them, Spain struck first with a Xabi Alonso penalty after the referee gifted Diego Costa with another soft penalty in the 27th minute.
Spain then settled in as they looked to protect their lead and continue a streak of not conceding a single goal that carried all through the knockout stage four years ago.
But just as Spain seemed to be in control, Manchester United striker Van Persie found himself alone with the goalkeeper in front of him and the ball floating down from the heavens, so he glided through the air like a low hanging Superman and lobbed a header over Iker Casillas for the 44th minute equalizer.
Van Persie celebrated by running to manager Louis van Gaal, who will join him at Man United next season. And with the momentum in Holland's favour, Arjen Robben put the Oranje up 2-1 in the 53rd minute after a lovely control and a solid finish.
Taking further advantage of the Spaniards' wobble, the Dutch added another goal in the 64th minute when 22-year-old defender Stefan de Vrij knocked in the first of his international career at the post.
They refused to let up as Casillas came way out to try and clear the ball from a charging Van Persie, but the Dutch captain won out and put it in the empty net to give the Netherlands a 4-1 lead in the 73rd minute.
And finally, Robben took advantage of a wandering Casillas again by making it 5-1 in the 80th minute.
Short URL: https://www.africanexaminer.com/?p=12613