Salman Abedi Identified as Manchester Suicide Bomber
African News, Europe, Featured, Latest News, World News
Tuesday, May 23rd, 2017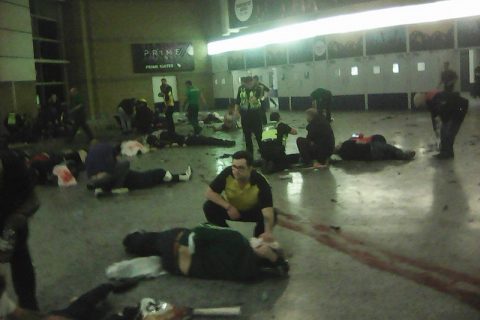 BALTIMORE, MD (AFRICAN EXAMINER) – Police has named Salman Abedi as the suspected suicide bomber who killed 22 people and injured 59 at Manchester Arena Monday night.
It is said that the 22-year-old Manchester born is from a family of Libyan origin.
So far, three victims including: Saffie Rose Roussos, eight, Georgina Callander and John Atkinson, 28 have been named.
Greater Manchester Police said the priority was to establish whether Abedi had worked alone or not.
Abedi is believed to have blown himself up in the arena's foyer Monday shortly after fans were beginning to leave a concert by US singer, Ariana Grande.
The suspect, who had at least three siblings, had lived at several addresses in Manchester, including a property at Elsmore Road, Fallowfield, which was earlier raided by police.
Eight-year-old Saffie Rose Roussos was identified to be a pupil at Tarleton Primary School, in Lancashire.
Her head teacher, Chris Upton, said she had been "simply a beautiful little girl in every aspect of the word" and was "loved by everyone".
Similarly, a student Georgina Callander, believed to have been 18, has also been named as among the dead.
She had been studying health and social care at Runshaw College in Leyland, Lancashire.
The wounded are currently being treated at eight hospitals around the city, with 12 children under the age of 16 among them.
Still, several people are still missing, including teenagers Laura MacIntyre and Eilidh MacLeod, from Barra in the Outer Hebrides; 15-year-old Olivia Campbell, Chloe Rutherford, 17, as well as Liam Curry, 19.
Scotland's First Minister Nicola Sturgeon confirmed that police were in contact with Laura and Eilidh's families, adding: "It is hard for any of us to imagine the anguish that their families are going through right now…"
Short URL: https://www.africanexaminer.com/?p=39388