Secession: Watch Your Utterances, Gani Adams Tells Lamido Of Adamawa
National Conference 2014, News
Monday, March 31st, 2014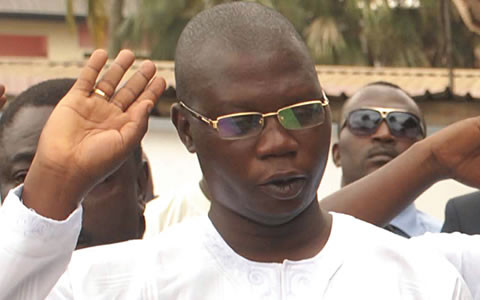 Kayode Adelowokan
The National Coordinator of the Oodua Peoples' Congress (OPC), Otunba Gani Adams, has warned the Lamido of Adamawa, His Royal Highness, Muhammadu Barkindo Mustapha, to watch his utterances over threat to secede from the present Nigeria if the country disintegrates.
The Lamido of Adamawa who is one of the thirteen persons and number three on the list of traditional rulers representing the group tagged, National Council of Traditional Rulers of Nigeria Traditional Rulers Council of Nigeria, said if Nigeria breaks, some people in the country would have nowhere to run to, but for him and his people in Adamawa Kingdom, they would pack their luggage and whatever they have and join their kith and kin in the Republic of Cameroun.
The Lamido also said before the very eyes of other 491 delegates, 6 officers of the Conference and Journalists that he was also ready to lead his people on a walk-out from the conference.
Addressing journalists in Lagos, Otunba Gani Adams said, "I was highly disappointed about his statement; an eminent royal father like the Lamido of Adamawa ought not to make such a statement. He's one of the most respected emirs we have in Nigeria today. He should be number five most recognised emirs in the country."
In his word, "I seize this opportunity to appeal to the royal fathers including the emir to watch their statements.
"Nobody should threaten the unity of Nigeria, we want Nigeria, but we should not be threatened. We the Yoruba people want to remain in Nigeria, but we shouldn't be threatened. We didn't have oil in 1954 to 1959, but we all know what Chief Obafemi Awolowo did for this nation through the western region government and when you study the Yoruba very carefully, our developments usually come from 80 per cent individuals and not government.
"We don't rely on any development from government. It is the North that depends on the government, they don't need Nigeria more than us, but we all need Nigeria because we have inter-married, done businesses together and Abuja solidifies us. There is a lot of interest between the six geo-political zones and Abuja and Lagos. It will be better for us to have one Nigeria so that our population can speak for us wherever we are.
"So, it is unfortunate that such a statement is coming from the emir and he's not the only one with such mind, some of the delegates in the conference are saying that if we don't agree with them on three-quarters for a decision that they will walk out. Nobody can threaten anybody."
The OPC leader maintained that he is ready to die for the course of the Yoruba people rather than betray the Yoruba race. Adding that though there are people who he believed are in the conference to sabotage the interest of the Yoruba.
He asserted that those people are those that are not deep thinker, who have forgotten their roots. "For me to be a Nigerian, I must be a very good Yoruba person. Chief Obafemi Awolowo said charity begins at home. Chief Obafemi Awolowo said before he could be a good Yoruba person, he must be a good Ikenne person, from an Ikenne person, then you must be a good Yoruba man before you become a good Nigerian. If anybody is telling you that I'm a Nigerian and he doesn't believe in any sectional cause, majority of them were those that destroyed this country. They can't love Nigeria more than me, but I must love my people before loving the people from other parts of the country", he added.
"The Yoruba people should put us on watch on this conference, they should monitor those from the South-West. Whoever betrays the Yoruba agenda should die politically; should lose relevance in the scheme of things even socially.
"This is the last opportunity we have as a nation to be out of bondage. Also, the South-East too should watch their delegates too because I'm not comfortable with the statement of Dr. Nnamani. Same thing goes to the South-South people too, they should watch their delegates. After this conference, if we don't get what we want, what else would we be calling for?"
On the 'No go areas' set by the government for the conference, the National Coordinator of the Oodua Peoples' Congress (OPC), Otunba Gani Adams, promised that the conference will abide with the no go area, as nobody will want to tamper with the unity of the country.
He said, "The unity of Nigeria must be sustained; it is a no go area, but we have to negotiate it. If we want unity, we need to restructure. We agree with Mr. President on this. Nobody will want Nigeria to break, but we have to negotiate Nigeria. When you have a relationship with some people for 100 years, you are not moving forward and you are gradually becoming a laughing stock in the comity of nations, you need to negotiate your existence.
"How do we move forward if we want to remain a nation? What kind of system must we use to remain in Nigeria? But anybody who says the status quo should remain does not want the unity of Nigeria. We must learn to live on the principles of justice, equity and not be selfish. We have equal citizens in USA, but the reverse is the case here. If you go to some places in this country, if you don't speak their language, you cannot get a job or even get promoted. All our appointments are usually lopsided.
"If we don't live based on justice and fair play, there is no way we can have peace. People will always be suspicious of their leaders. The local governments' structure is not balanced. Local governments from three states in the north are more than the entire local governments of the south east. All these things have to be readdressed."
He therefore warned that the delegates are not going to the conference for a jamboree. "I have a lot of things to do in Lagos. I'm in Abuja because I love my nation. The Yoruba people should put all of us on the watch list because some of us there are sabotage", he averred.
"We should go back to regional government. Majority of the wealth should go to the regions that produce them while only 25 per cent should go to the centre. The zone should determine how many states and local governments it will create by itself. Then, you can use that money to develop your zone and build airport or whatever you want to do with it. Federal government for instance does not have anything to do with power supply, water, road and others. Let each zone develop at its pace."
Short URL: https://www.africanexaminer.com/?p=9685