Senate Adjourns for One Week Over PDP Congresses
Featured, Latest News, News
Thursday, May 5th, 2016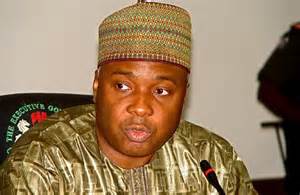 Ayodele Afolabi, Abuja
Senate has adjourned plenary for a week as result of the ongoing congresses  of the main opposition party, the Peoples Democratic Party ( PDP), preparatory to its National Convention slated for Saturday, 21st of this month.
One of the congresses was the Local Government one conducted by the party Thursday  which prevented senators  from forming a quorum.
The rules  of the Senate stipulates that quorum is formed for plenary when one-third (at least 37 senators) of the 109 senators were present.
However, senators present were not up to 37 and were only of the All Progressives Congress (APC) numbering 25 with only 4 PDP senators and 1 Labour Party senators in attendance.
After considering the votes and proceedings of Wednesday, the Leader of the Senate , Ali Ndume, moved that plenary be adjourned to the next legislative day which would have been Tuesday next week but moved to Thursday, May 12 next week on account of PDP state congress coming up on that day.
In a letter forwarded to the Senate President and read on the floor, the Minority Leader of the Senate and Leader of the PDP senate caucus, Godwill Akpabio , said as the congresses of the party get to Local Government and State levels, the Senate should allow PDP senators to participate fully by suspension of plenary.
The senate thereafter adjourned plenary to Thursday , May 12.
Coincidentally, the one week adjournment of plenary by the Senate would also afford its embattled President, Bukola Saraki, to pay full attention to his trial at the Code of Conduct Tribunal ( CCT) on Tuesday next week as earlier slated by the Tribunal at its last sitting last week Thursday.
Short URL: https://www.africanexaminer.com/?p=32429