Turkey: Massive Anti-Coup Rally Staged In Istanbul
Featured, Latest News, World News
Monday, August 8th, 2016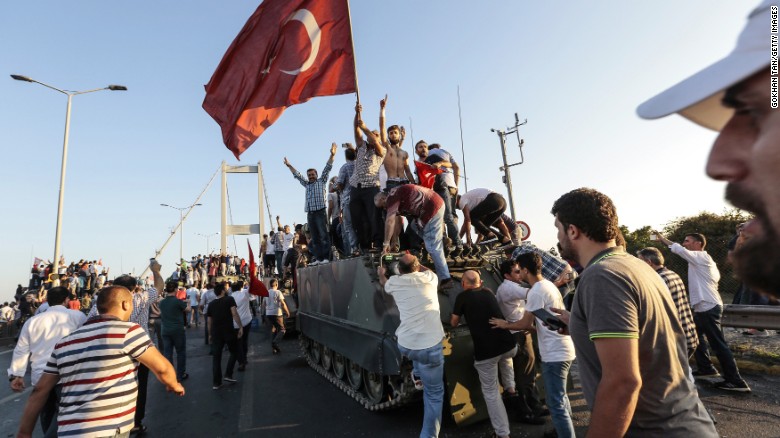 BALTIMORE, MD (AFRICAN EXAMINER) – Turkish President Recep Tayyip Erdogan's seems to be enjoying more popularity in his country, as hundreds of thousands of people gathered in country's biggest city, Istanbul, for an anti-coup rally.
Turkey experienced a failed coup attempt Friday July 15, 2016. Over 270 people died in the failed mutiny.
Interestingly, Erdogan is being joined by opposition leaders in addressing the crowds at the rally.
The President has since descended heavily on the civilians and military men suspected to play different roles in the foiled coup. Also, there has been clampdown on the perceived supporters of the failed coup sponsors Fethullah Gulen – a US based Turkish Cleric.
Mr Gulen was a former close ally of President Erdogan until a bitter split between his movement and the ruling party three years ago.
Turkey's authority has listed Mr. Gulen's movement as a terrorist organization.
The massive protest tagged "Democracy and Martyrs' Rally" marked the end of three weeks of nightly demonstrations by President Erdogan's supporters around the country.
However, the Kurdish groups were not invited, because of alleged links to militants.
Prime Minister Binali Yildirim told the rally that Mr. Gulen would be extradited to Turkey and made to pay the price for the failed coup.
"Let all of you know, the leader of this terrorist group will come to Turkey and pay for what he did," the PM restated.
The Leader of the main secularist opposition party, Kemal Kilicdaroglu, also disclosed at the rally that the coup had opened a "new door of compromise" in the country's politics.
"There is a new Turkey after July 15," Kilicdaroglu stressed.
Also, the head of Turkey's armed forces Hulusi Akar in his address, threatened "traitors" behind the attempted coup would be punished in the harshest way. He thanked civilians for their role in defeating the uprising.
Many Western nations have been very critical of the Turkish government's response to the coup.
While many suspects have been purged out of yhe public service, about 18,000 people have either been detained or arrested.
Short URL: https://www.africanexaminer.com/?p=34772